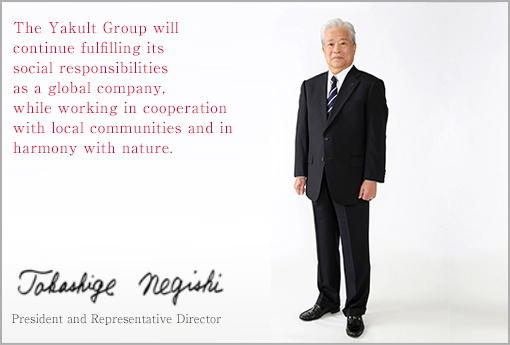 The business environment for the Yakult Group has been going through major changes with the aging population,declining birthrate, and diversifying lifestyles in Japan,as well as the growth of emerging markets and their increasing health consciousness, and the intensifying global competition in the rest of the world. Meanwhile,the adoption of the Paris Agreement and enactment of the UN Sustainable Development Goals (SDGs) in 2015 have shown the world the goals that need to be undertaken in order to realize a sustainable society.
We have engaged in corporate activities such as development, manufacturing and sales of foodstuffs,pharmaceuticals and cosmetics, under the corporate philosophy of "We contribute to the health and happiness of people around the world through pursuit of excellence in life science in general and our research and experience in microorganisms in particular," based on Shirota-ism principles of "preventive medicine,""a healthy intestinal tract leads to a long life," and "a price anyone can afford." With the belief that our corporate activities are our CSR, we will continue to flexibly and effectively respond to changes in the business environment and social issues.
Fiscal 2016 was the final year of Phase II (2014-2016) of Yakult Vision 2020, the Yakult's long-term business management vision. Showing performance growth at the end of Phase II, the average number of dairy products sold worldwide was 37.37 million bottles (5 million bottles more compared to fiscal 2013), consolidated net sales were 378.3 billion yen (up by 28 billion yen for the same period), and consolidated operating income was 37.2 billion yen (up by 5.2 billion yen for the same period).
The food and beverage business is strong, thanks to intensified advertising and growing interest in probiotics. Although affected by foreign exchange, the international business remained steady with expansion of sales areas in China and the United States. In March 2017, we began sales in the Middle East region using Yakult Middle East FZCO as a base, thereby expanding our sales network to 37 countries and regions aside from Japan. Besides complying with local laws and international rules, we will go on promoting our business while paying close attention to the culture,customs and human rights issues in each country and region.
The final phase, Phase III, began in April 2017. In this transformation period toward sustainable growth, we are putting all our efforts toward achieving our goals.

In April 2016, the Group accelerated the pace of basic research on intestinal flora and probiotics, among others, as well as research on commercialization of foodstuffs, pharmaceuticals and cosmetics. The Yakult Central Institute was upgraded to contribute to the promotion of science and technology and development of society through these research activities.We will further focus on basic research in the intestinal flora and probiotics field, along with applied research for products and safety-related research.
With the upgrade of the Yakult Central Institute, we designated fiscal year 2016 as a "Science Year" and held various academic events . We believe that these activities will encourage researchers and the general public to gain a deeper knowledge of probiotics and appreciation of our slogan "Yakult, dedicated to science."
We will also continue our joint research with the Japan Aerospace Exploration Agency (JAXA). This research involves verifying the effects of Lactobacillus casei strain Shirota on the immune functions and intestinal environment of astronauts staying for the long-term aboard the International Space Station (ISS). In fiscal 2017, the world's first space experiment to scientifically verify the effects of continuous intake of probiotics in the space environment on the immune functions and intestinal environment of astronauts on long-term stays in the ISS began. Through this research, we believe that we can build up the knowledge that will help us contribute to the health of our customers and ultimately further development of preventive medicine.

Aside from delivering healthy products primarily through the home delivery system conducted by more than 80,000 Yakult Ladies worldwide, the Yakult Group is also carrying out awareness-raising activities aimed at establishing healthy living habits as well as activities that contribute to the community.
In Japan, we actively dispatched guest lecturers to lecture on the topic of intestinal health, with over 200,000 attendants in fiscal 2016. We also help create safe, secure and livable communities through various activities. These included making agreements with local governments and other institutions for our "Courtesy Visit Activities," in which we paid visits to around 41,000 elderly persons living alone, and participating in safety and crime prevention watches in cooperation with 785 local governments and police departments nationwide.
In countries other than Japan, we provide employment opportunities to women in communities particularly in Asian countries, while also helping to raise health awareness and revitalize local communities.

The Yakult Group has carried out CSR initiatives based on the Yakult Environmental Action Plan since fiscal 2001. In fiscal 2012, we formulated the Basic Policy on CSR in line with our efforts to fulfill our social responsibilities as we achieve sustainable growth as a corporate group. And in fiscal 2016, we announced the Yakult CSR Action Plan, which was formulated with key themes that follow the core subjects in ISO 26000.Going forward, we will set specific action targets in line with the key themes and continue strengthening our CSR activities across the entire Group, while being more mindful of our responsibilities as a global company.
We welcome your assistance and candid feedback, and we look forward to your continued support of the Yakult Group.
October 2017
Takashige Negishi
President and Representative Director