I would like to wish everyone a Happy New Year.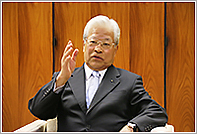 At present, the Company is pursuing various initiatives for the future. One of those initiatives was holding Nature Café in October of last year at the London editorial office of nature, a world renowned authoritative scientific journal. It was deeply moving to think that cutting-edge scientific information is disseminated all over the world from here. Nature Café is a science event where the world's top-notch scientists and the editors of nature discuss topics in various fields, together with the attendees.
Presentations and panel discussions were held with Professor Kiyoshi Takeda of Osaka University and five world renowned researchers as panelists, focusing on the theme of "The Role of the Gut Microbiota in Health and Disease." In addition, about 90 attendees, including researchers from the Yakult Central Institute, actively asked questions and expressed their opinions in heated discussions, resulting in a successful event.
I believe that, as an initiative for the future, holding such events widely disseminates the notion "Yakult, dedicated to science" within and outside Japan, as well as helps to develop contact with world-class scientists and promote understanding of probiotics, our origin, on a global scale.
Next, I will talk about the "Space Project."
The "Yakult Space Project" traces its origins to the start of joint research activities with the Japan Aerospace Exploration Agency (JAXA) on the International Space Station (ISS) in 2012 with the aim of contributing to human health in the coming age of space.
In March of last year, Yakult and JAXA held a press briefing on joint probiotics research. At this briefing, it was announced that ground-based research which has been conducted since 2014, and the world's first experiment on the continuous consumption of test samples, including Lactobacillus casei strain Shirota, by astronauts, will be carried out.
Health management of astronauts staying in space for a long period of time would be of utmost importance not only on the space station but also during exploration activities on the moon and Mars in the future. In particular, "maintenance and improvement of the immune function" would be crucial.
If Yakult's Lactobacillus casei strain Shirota plays that role, and its effects are scientifically verified, Yakult's dream will broaden further. I have high hopes and expectations for the results of the experiments, as well as for the progress of development of functional space food and ground-based applied research thereafter.
Overview of Business Operations
Although there are three more months until the end of fiscal 2017, the consolidated results for the six months announced in November in the financial statements for the second quarter ended September 30, 2017 showed a 4.6% year-on-year increase in net sales to approximately ¥197.7 billion, a 21.7% year-on-year increase in operating income to approximately ¥22.8 billion, a 13.0% year-on-year increase in ordinary income to approximately ¥26.8 billion, and a 19.5% year-on-year increase in profit attributable to owners of parent to approximately ¥17.8 billion, as both revenues and income rose.
The driver of revenue growth is an increase in the number of bottles of dairy products, which are core products, sold. In the previous fiscal year, the average number of bottles of dairy products sold worldwide per day surpassed 40 million bottles for the first time in August and September. During this fiscal year, however, this figure topped 40 million bottles for five consecutive months from May to September. In addition to market penetration and expansion overseas, in Japan too, aggressive advertising and activities at sales sites by stores and Yakult Ladies proved successful. As a result, the number of bottles of dairy products sold, especially of Yakult products, continues to increase. Going forward, we will continue to aim at achieving stable growth in Japan and overseas.
Conclusion
In May of last year, we announced the Phase III Plan which covers the four years from fiscal 2017 to fiscal 2020 as the final phase of Yakult's medium- to long-term vision "Yakult Vision 2020." I consider enhancement of the Yakult brand as the most important initiative for achieving this plan. To this end, it goes without saying that we will manufacture safe and secure products, but we will also focus on research and development and provide high-value-added products. Meanwhile, in sales sites, we will engage in various activities in Japan and overseas so that Yakult products will be chosen by as many people as possible. By doing so, we intend to push ahead with creating a more trustworthy brand.
This concludes my New Year's message.

Takashige Negishi,
President
Yakult Honsha Co., Ltd.