Toward biodiversity conservation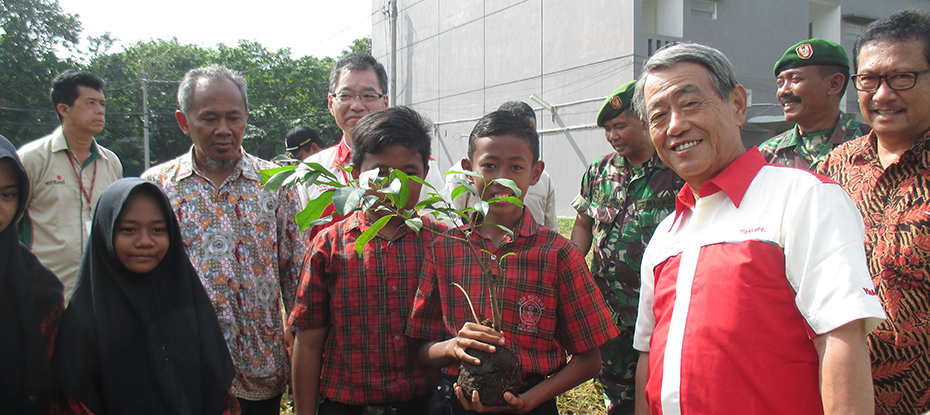 The Yakult Group produces products using nature's gift of lactic acid bacteria, so we view the conservation of biodiversity as one of our material issues. One of the goals of Yakult Sustainable Ecology 2020 is to "preserve and utilize biodiversity" for the creation of a sustainable society.
Below we introduce some of the efforts by Yakult Honsha, plants and Group companies outside and within Japan.
Biodiversity is the diversity of living things. Our lives are sustained by ecosystem services (e.g., the provision of food and water, regulation of the climate, etc.), which involve complex interactions among a multitude of living things. However, human activities are threatening the survival of many species and disrupting the balance of ecosystems, so governments, corporations, and individuals need to be aware of and take action on biodiversity.
Biodiversity conservation as part of Yakult CSR campaigns
Since fiscal 1994, the Yakult Group has been implementing Yakult CSR campaigns directed at all Yakult workers that coincide with Japan's Environment Month as designated by the Ministry of the Environment. In fiscal 2017 we linked up with the My Action Declaration program of the UNDB-J.*
With this program the UNDB-J encourages individuals to be more aware of and to take action on biodiversity in the course of day-to-day living. This year, 15,706 Yakult Group workers participated by choosing from among five options (eating, feeling, sharing, conserving, and selecting) and committing to take action to protect biodiversity.
As part of the campaign we also made donations to the Children's Forest Program run by the Organization for Industrial Spiritual Cultural Advancement (OISCA). The donations will be put to work in Indonesia, the Philippines, and China (Inner Mongolia Autonomous Region).
We also participated in Green Wave 2017 tree-planting activities on the UN's International Day for Biological Diversity, and planted 23 trees at 13 Yakult Group plants throughout the country and the Yakult Central Institute facilities in Kunitachi City, Tokyo.

Greening and scenic preservation near our facilities
We are helping conserve biodiversity through greening, cleanup campaigns and conservation of regional landscapes near our institute and plants.
Yakult Central Institude
Our vision is for the Yakult Central Institute to be a facility surrounded by forest and water. In 2015 we created a walking path around the perimeter of the Institute's grounds. It was designed to fit in well with the natural forests of the Musashino plateau (a large ancient tableland in the region) and is popular with the community today.
Shonan Cosmetics Plant
We are engaged in a variety of greening activities in cooperation with the nature conservation section of Fujisawa City Hall. We contribute to a green urban environment through an annual autumn event to promote the planting of flowers and greenery, by soliciting posters and slogans from the public on those themes, handing out free seedlings, and offering tours of companies involved in greening.
Tree-planting with goverment and civil sociey organizations
Co-sponsoring the 69th Nationa Tree-Planting Festival(in Fukushima in 2018)
Yakult Honsha was a co-sponsor of the 69th National Tree-Planting Festival in 2018. This festival is jointly organized every spring by the National Land Afforestation Promotion Organization together with a host prefecture. In 2018, Fukushima Prefecture co-hosted the event to promote citizen participation in supporting forests, as the prefecture has experienced significant changes in its forest environment since the 2011 Tohoku earthquake and tsunami.
Prior to that festival, a total of 23 workers from Yakult Fukushima Sales Co., Ltd., the Fukushima Plant, the East Japan Branch, and the CSR Promotion Department (Public Relations Department) planted 250 Japanese black pine seedlings in Minamisoma City, Fukushima in October 2017. On the official day of the festival in June 2018, three Yakult personnel participated in the ceremony and tree planting activities for the creation of a coastal protection forest.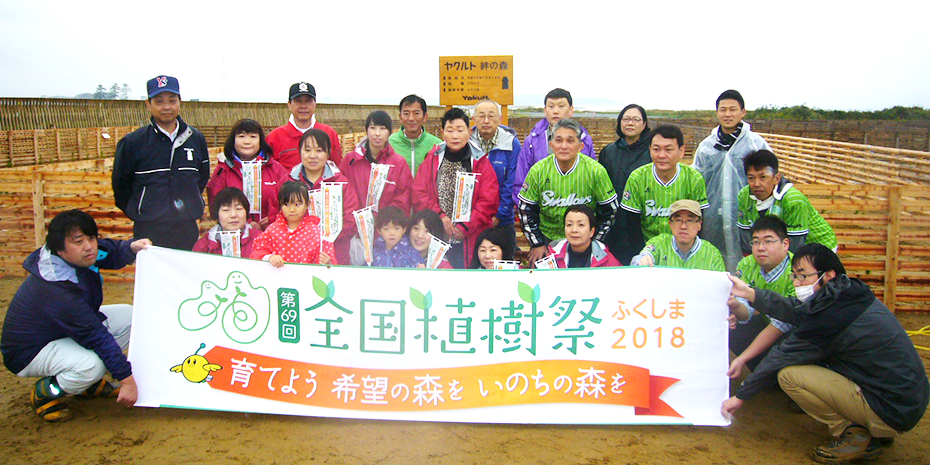 Tree planting in Minamisoma City, Fukushima
Yakult(china)Corporation:Yakult forest (Million Trees Project)
Since 2015, Yakult (China) Corporation has participated in a public afforestation initiative to combat desertification in the Inner Mongolia Autonomous Region. So far, 6,000 trees have been planted, with a survival rate above 70%, according to an NGO study.
The initiative aims to continue planting 2,000 trees annually. To raise Group-wide interest we plan to encourage the participation of employees from production, home delivery, and management departments starting in 2018.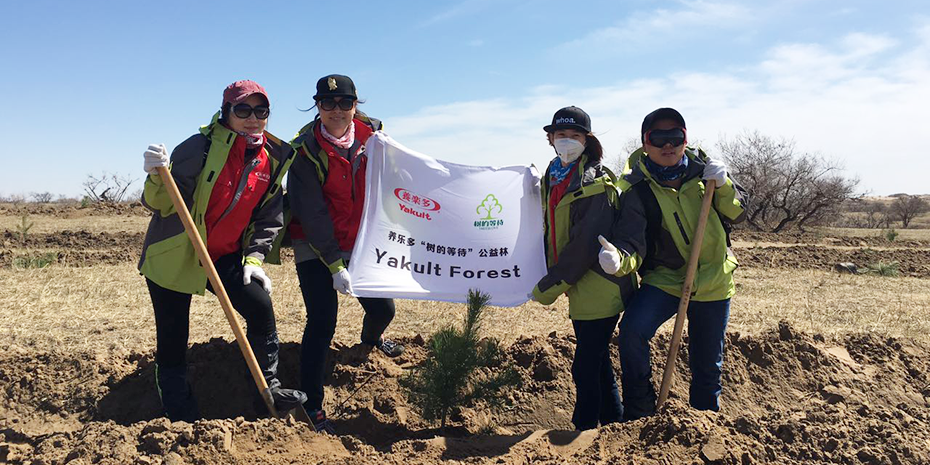 Returning the desert to forest
P.T. Yakult Indonesia Persada: Local tree planting
Deforestation in Indonesia has become a serious global concern. The destruction of forests by illegal logging in a national park near the Sukabumi Plant has been identified as one factor contributing to increased risks of disasters from river flooding and landslides. To support the greening of this area, we have been carrying out afforestation activities since fiscal 2015.
In fiscal 2017 we donated 10,000 seedlings to NGOs working in the national park near the plant, and helped to plant them. Starting in 2018 we plan to expand the activities to the area near our Mojokerto Plant. In the future we also plan to involve more employees in these activities to conserve biodiversity and to develop stronger ties with local communities.
TOPIC
Co-sponsoring conservation activities in Malaysia's "Orangutan Forest"
The Semenggoh Nature Reserve on Malaysia's island of Borneo is known internationally as a protected area for the endangered orangutan. Yakult Honsha cosponsored a Tree Planting Program for Saving Orangutans started by the Japan Malaysia Association in 2017.