Yakult's corporate activities are centered on the development, manufacture and sale of food and beverages, pharmaceuticals and cosmetics. With our corporate philosophy of "we contribute to the health and happiness of people around the world through pursuit of excellence in life science in general and our research and experience in microorganisms in particular," we conduct these activities based on the Shirota-ism principles of "preventive medicine," "a healthy intestinal tract leads to a long life" and "a price anyone can afford." We are actively tackling a number of issues in building a sustainable society based on the belief that our corporate activities themselves are a social responsibility, as we believe that in order for people to be healthy, everything around them must also be healthy.
Welcoming 2019 with record achievements in both sales and profits
The Yakult Group achieved both record sales and operating profits in fiscal 2018, the second year of Phase III of our long-term vision, Yakult Vision 2020. We are delighted to see these kinds of results in the 120th anniversary year of the birth of Minoru Shirota, our founder and Doctor of Medicine. Growth has been particularly steady in Asia, with Yakult having a 60% share of the fermented milk drink market in the areas of China where our products are available, and we have also made significant expansions in relatively new countries for us, such as Vietnam, India, and the United States.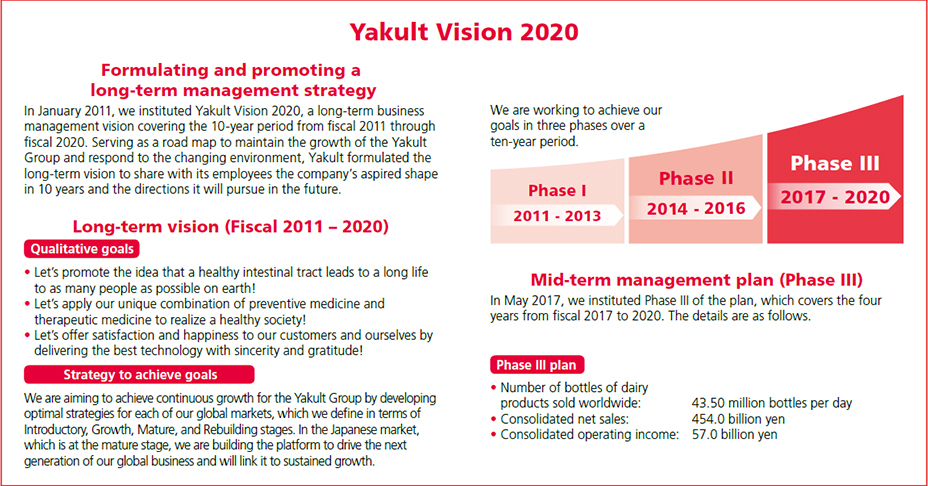 The number of countries where we do business has also grown. In January 2019 we launched sales in Denmark, and in August 2019 we began manufacturing and sales in Myanmar, meaning we have now expanded into 40 countries and regions, including Japan.
It goes without saying that it is the strength of our people that supports our growing business. In October 2018 in Kyoto — a place closely connected to our founder — we held the Yakult World Convention with approximately 2,700 participants, including employees and Yakult Ladies from each country and region who have achieved remarkable results. I was overwhelmed by the enthusiasm at the event, and when calling the participants up one-by-one to commemorate them, their high spirits and power were truly palpable.
Responding to ESG issues through our corporate activities
In addition to continuous improvement in our performance, we believe that tackling various issues to realize a sustainable society is essential in corporate management.
The Government Pension Investment Fund (GPIF), the world's largest institutional investor, makes large-scale investments in companies working to improve the overall sustainability of society — that is, those that actively incorporate environmental, social and governance (ESG) factors, the pillars of CSR, into corporate management. Yakult Honsha is included in one GPIF ESG index, and moving forward we will respond to the expectations of investors who value ESG initiatives by promoting and actively disclosing our CSR activities.
We promote our corporate activities according to the Yakult CSR Action Plan, which was formulated in line with the seven core subjects of the global CSR standard ISO 26000 to clarify our responses to ESG factors and SDGs. Here I will introduce some of our wide-ranging initiatives that address these seven core subjects.
Building safer communities and establishing healthy living habits
1. Consumer Issues
Contributing to the health and happiness Ⅰ Consumer Issues of our customers
1I. Community Involvement and Development
Towards development together with local communities
In addition to providing products that contribute to the health of customers, primarily through our Yakult Lady home delivery system, the Yakult Group also conducts activities that raise awareness of healthy living habits and support local communities.
One of our greatest strengths is, of course, our unique home delivery system by Yakult Ladies. Yakult Ladies play an active role both in Japan and worldwide, with their numbers reaching over 80,000 globally. Our Yakult Lady home delivery system was awarded the METI Minister's Prize at the Second Nihon Service Award in June 2018 for the contribution it makes to raising health awareness and women's empowerment. We are delighted to see this system, which has been operating continuously since 1963, once again acknowledged.
In fiscal 2018 approximately 3.45 million participants worldwide joined our guest lectures on intestinal health at elementary schools and other locations. We also welcomed approximately 6.93 million participants worldwide at our health-related lectures for local communities, which are held at centers (Yakult Lady sales hubs), community facilities, and elderly care facilities. From a long-term perspective, We believe that these kinds of initiatives raise health awareness in local communities and foster correct understanding of how Yakult's lactic acid bacteria works, leading to a larger foundation for our business.
Furthermore, along with partnering with local governments to make Courtesy Visits to around 38,000 older people living alone, we also team up with 878 local governments, police and fire departments nationwide to run community safety watch and crime prevention activities, helping build safer and more comfortable local communities.
The pursuit of excellence in life science forms the foundation of the Yakult Group. To drive innovation, we not only promote research and development at the Yakult Central Institute, but also collaborate with external organizations. One example is our joint research with the Japan Aerospace Exploration Agency (JAXA) that began in fiscal 2014. In fiscal 2018 they confirmed that Lactobacillus casei strain Shirota maintains its probiotic properties even when stored long-term in a space environment.
Using climate change response as an opportunity
Converting to easily-recyclable containers and packaging
III. The Environment
For environmental conservation
We incorporate environmental activities at each stage of our operations under the three major themes of the Yakult Sustainable Ecology 2020 initiative: "realization of a low-carbon society" (in response to climate change), "efficient use of resources," and "efforts to preserve and utilize biodiversity."
Climate change-related business risks that have been identified include the interruption to operations or raw material procurement due to natural disasters caused by climate change. We are responding to these risks using risk management manuals, and by decentralizing our production bases. On the other hand, we also believe that responding to climate change can become an opportunity for positive evaluation from our stakeholders. We will make this possible by building energy- and resource-saving production and distribution systems, promoting initiatives such as environmentally conscious packaging, as well as by publishing this report and appropriately disclosing information in response to investor demands.
At the June 2019 G20 summit in Osaka, a new goal was set to completely eliminate plastic waste inflow to the ocean by 2050. Yet before that, we had already announced our Declaration of Action on Plastic Recycling, setting the major goal of maximum conversion to easily-recyclable materials by 2030. A worldwide movement has now emerged to regulate the use of plastic. Moving forward, we will plan specific actions while monitoring regulations in each country and region.
In addition, we will also investigate various new issues, such as the move to reduce food loss and waste that has recently gained momentum.
Supporting healthy workers to foster healthy communities
IV. Labour Practices
Improving the health and motivation of our employees
Our Statement on Health details our recognition that the health of our employees is both our social responsibility, and essential to realizing our corporate philosophy of "contributing to the health and happiness of people around the world." Specifically, along with promoting the streamlining of duties, we maintain thorough labor management, and are working to reduce long working hours and improve the rate of paid holidays taken. As a result, in February 2019 we were once again certified as a "White 500" company for outstanding health and productivity management.
We are also improving the working environment for Yakult Ladies. In fiscal 2018 we invested 640 million yen in updating equipment used by Yakult Ladies. This has both lightened their workload and improved motivation, while at the same time enabling them to spend more time with customers.
Working with business partners for fair and equitable procurement throughout the supply chain
V. Human Rights
Respect for human rights
VI. Fair Operating Practices
Ensuring fairness in our business
VII. Organizational Governance
Promoting transparent management
The procurement of various raw materials, such as packaging materials and skim milk powder for dairy products, is essential to our business, and we are promoting environmentally and socially conscious CSR procurement initiatives. In line with our CSR Procurement Policy established in March 2018, we took a large first step by conducting CSR procurement surveys of our main business partners between March and May 2019. Moving forward, we will work together with business partners to promote fair and equitable procurement activities throughout the supply chain.
As a company widely trusted by stakeholders, we also practice governance based on the objective of the Corporate Governance Code, as well as thorough compliance, and promote transparent management by actively disclosing information. We are also aiming to build a governance structure with greater emphasis on diversity, and appointed a female outside director in June 2019.
Contributing to achieving SDGs through our business
Our corporate philosophy of "contributing to the health and happiness of people around the world" is directly related to how our business itself contributes to achieving each SDG. At the second Japan SDGs Award held in December 2018, we received a Special Award (SDGs Partnership Award) for contributing to achieving Goal 3 (Ensure healthy lives and promote well-being for all at all ages) in our daily business activities. We also placed first in the food category at the Brand Finance Awards 2019, presented in May 2019 by the UK company Brand Finance. These external honors further fuel the momentum for our future business activities.
As a company operating worldwide, we will continue responding to various challenges while maintaining a keen awareness of our social responsibility, and work towards increased corporate value. We ask for your continued support going forward.
September, 2019

Takashige Negishi
President and Representative Director
Basic Policy on CSR
We at the Yakult Group will implement corporate social responsibility (CSR) activities by generating tangible benefits in accordance with our corporate philosophy and realizing sustainable corporate growth. Specific CSR activities in accordance with this objective are articulated in our Basic Policy on CSR, which was formulated in April 2012.
Basic Policy on CSR
All of us in the Yakult Group will strive through corporate activities based on our corporate philosophy to earn the trust of all the Group's stakeholders and promote mutually beneficial relationships with all stakeholders.
Yakult CSR Action Plan
In order for the Yakult Group to take effective actions in the three key areas of CSR, from fiscal 2015 we have been systemizing our CSR activities in accordance with ISO 26000, the international standard for social responsibility.
Specifically, in fiscal 2016 we formulated the Yakult CSR Action Plan, which clarifies the focus of our three key CSR areas in accordance with the seven core subjects of ISO 26000, and in fiscal 2017 relevant departments set concrete action targets and implemented activities accordingly.
Yakult CSR Action Plan
ISO 26000 Core Subjects
Key Themes
 

Consumer issues

Customer-first principle
Protect customer personal information
Provide safe and reliable products

Community involvement
and development

Respect for local cultures and customs
Activities for solving local issues
Promote social contribution activities
Strengthen relations with local communities

The environment

Realize a low-carbon society
Effectively use resources
Preserve and utilize biodiversity

Labour practices

Promote work-life balance
Promote workplace safety and health
Promote diversity
Promote active roles for women

Human rights

Respect for personalities and human rights
Promote diversity

Organizational governance

Implement corporate governance
Promote business in accordance with compliance
Disclosure of corporate information and communication with society
Thorough confidentiality

Fair operating practices
Additionally, we believe Sustainable Development Goals (SDGs) should be addressed as shared global challenges to achieve a sustainable society, and have included our approach to contributing to the achievement of SDGs in the CSR Action Plan.
Specifically, of the 17 SDGs, we have identified those that are highly relevant to the Group, and after clarifying their relationship with the seven core subjects and key themes in the Yakult CSR Action Plan, we are implementing initiatives at each stage of operations.
CSR Promotion Organization
CSR Promotion Committee
We have established a CSR Promotion Committee that is chaired by the General Manager of Management Support Division (Senior Managing Executive Officer) and made up of officers from each division.
Members of the committee discuss policies and measures for promoting CSR and monitor the progress of each activity. Matters considered by this committee are brought up for discussion at the Executive Officers Committee when necessary.