Climate change
Materiality

Our approach
We recognize that climate change is a critical issue for the Yakult Group's business continuity. As global society works toward net zero, the Yakult Group will cut GHG emissions by working on setting fixed targets, advancing more energy saving initiatives and actively introducing renewable energy.

Promoting CO2 reduction
At Yakult Honsha plants and bottling companies, we are reducing CO2 emissions by introducing environmentally conscious equipment, switching to LED lighting and improving production efficiency. We are also actively adopting solar power, a clean and renewable source of energy.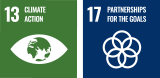 Main initiatives
In March 2021, the Yakult Group created the Yakult Group Environmental Vision 2050
The world is experiencing climate change and various other environmental issues that are growing more severe with time. In March 2021, the Yakult Group, which has business operations globally in 40 countries and regions including Japan, created the Yakult Group Environmental Vision to reduce our negative impact and promote efforts with a positive impact on the global environment with the aim of uniting people and planet as one.
For the three material themes related to the environment, we set Environmental Targets 2030 as medium-term milestones, as well as Environmental Actions (2021-2024) for short-term milestones, towards achieving our Environmental Vision 2050.

Reducing CO2 emissions at Yakult Honsha plants, bottling companies, and marketing companies
At Yakult Honsha plants and bottling companies, we have been reducing CO2 emissions by switching to LED lighting, improving equipment and production efficiency, using solar power generation, and other initiatives. We also changed the pump supplying cold water to storage tanks to operate intermittently, in order to reduce power consumption and CO2 emissions.
We are also introducing electric vehicles to reduce CO2 emissions of delivery vehicles used by Yakult Ladies at marketing companies.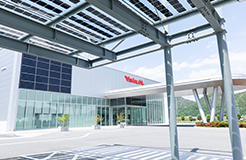 Solar panels at Okayama Wake Plant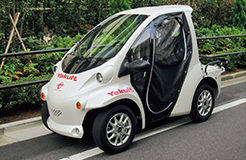 Electric vehicle (COMS)
Modifying the product cooling system
Products produced at the plant are stored in tanks until they are filled into containers. During storage, cold water is circulated throughout the tanks to maintain quality. The cold water is supplied from special water tanks using pumps. In the past, the pumps continuously supplied cold water to the tanks. To reduce electricity consumption, the pump operation was modified to supply cold water intermittently.
This shortened the pump operating time and resulted in lower power consumption. To carry out this initiative, we enforced strict quality control through tests to thoroughly verify the relationship between pump downtime and product temperature.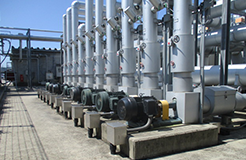 Cooling water pump, Fukushima Plant
For details, see "Climate change" of the Yakult CSR Report