Environmental Philosophy
Recognizing that environmental preservation and harmony with society are among the most important corporate management objectives, Yakult Honsha and all the Yakult Group business units will give due consideration to environmental preservation with regard to all types and aspects of its corporate activities
Action Directives
1.
To realize the measures determined by the CSR Promotion Committee within Yakult Honsha, all Yakult Group business units will work concertedly, proactively, and in a sustained manner to address environmental issues associated with business activities.
2.
Each business unit will build environmental management systems and systematically work with the participation of all employees to realize the objective of reducing environmental impacts and will also seek to realize sustained improvement in environmental performance by periodically checking the implementation of associated measures,auditing such measures, and reevaluating environmental activities.
3.
Besides maintaining rigorous compliance with environment-related laws, regulations, and agreements, each business unit will autonomously set its own environmental standards,strive to further improve the level of its environmental management, and strive to eliminate environmental pollution risk factors before they become problematic.
4.
In all business activities, business units will give due consideration to the environment as well as biodiversity by promoting the reduction of environmental impacts.
(1)
Efforts will be made to design containers and packaging based on due consideration of such objectives as reducing the volume of resource usage and waste products associated with containers and packaging, optimizing disposal, and promoting resource recycling.
(2)
Regarding product manufacturing, efforts will be made to thoroughly prevent environmental pollution as well as to reduce emissions of waste products, greenhouse gases, and other problematic substances through resource and energy conservation measures. In addition, to promote the creation of a recycling-oriented society, efforts will be made to recycle waste products and utilize green purchasing methods.
(3)
Regarding product distribution and marketing, efforts will be made to reduce environmental impacts stemming from motor vehicles and other transportation equipment, recycle resources associated with product containers and packaging, and reuse marketing-related equipment and materials.
(4)
All Yakult Group offices will strive to conserve resources and energy and thereby reduce their generation and emission of waste products, greenhouse gases, and other problematic substances. In addition, they will strive to recycle waste products and utilize green purchasing methods.
(5)
Regarding research activities, efforts will be made to reduce environmental impacts and to thoroughly manage substances with the potential for causing environmental pollution or safety hazards.
5.
All employees will be thoroughly provided with environmental education, and efforts will be made to increase consciousness of environmental issues.
6.
Information related to environmental activities will be appropriately disclosed, and efforts will be made to communicate effectively with society at large.
7.
The Group will act as an exemplary corporate citizen by proactively supporting and cooperating with activities aimed at protecting the global environment.
Established: June 24, 1997
Revised: March 8, 2004 / January 25, 2010
Yakult Sustainable Ecology 2020
◆Realization of a low-carbon society
Proactively reduce greenhouse gas emissions to realize a low-carbon society
◆Efficient use of resources
Promote efficient use of resources by applying the "3Rs"(reduce, reuse and recycle) in ways that increase resource Recycling
◆Efforts to preserve and utilize biodiversity
Gain a comprehensive understanding of the relationship between business activities and biodiversity, and work to preserve biodiversity
Yakult Sustainable Ecology 2020
The Yakult Group is striving to help realize a lowcarbon society, promote efficient use of resources and preserve biodiversity while creating mutually beneficial relationships with stakeholders and contributing to the creation of a sustainable society.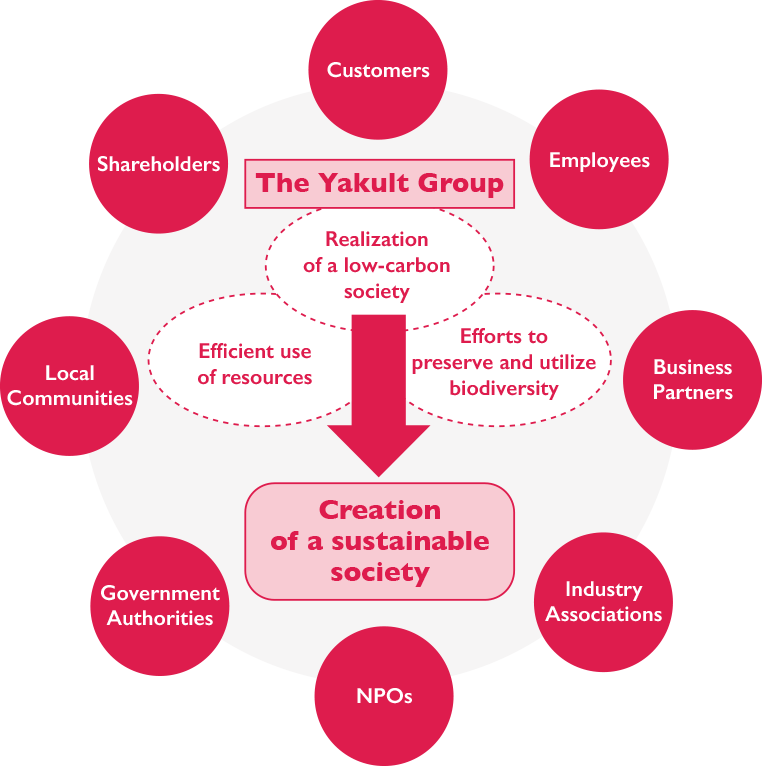 Yakult Environmental Action Plan: Overview of phase 6 plan action targets
In the Phase 6 Plan, we formulated the following plan for which we implemented activities from April 2016, adding the material issues of water resource conservation and ensuring environmentally conscious containers and packaging. We met our targets in almost all items in fiscal 2017. We will continue to make group-wide efforts to meet future targets.