We do our best to reduce, reuse and recycle waste.
Initiatives to reduce waste and sustained zero emissions performance
Yakult Honsha plants and bottling companies are implementing measures to curb waste generation as well as promote recycling, and are continuing to maintain zero emissions.*
* Yakult's definition of zero emissions: A state achieved when the amount of final disposal (landfill) of waste from plants (excluding specially controlled industrial waste) is less than 1% of waste generated.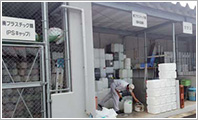 Curbing and sorting waste at the Head Office building
At the Head Office building, we encourage our employees to reduce waste generated in the office and promote separation and collection of waste.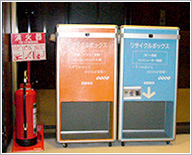 Appropriate management and recycling of waste at the Yakult Central Institute
The Institute generates a wide variety of waste in its research. The waste is separated and collected properly at the Institute, and the final disposal of waste is conducted by licensed waste disposal contractors. The fiscal 2017 recycling rate for the Institute was 92.6%.
With the aim of further improving our recycling rates, we have also renewed contracts with the waste disposal contractors, and we are making efforts to verify that waste disposal and recycling are being done properly, including through site visits to facilities of waste management companies (8 companies). We also work actively to collect information, such as by regularly holding on-site tours of waste disposal facilities of other contractors.