Water
Materiality

Our approach
Water is a finite resource on Earth. In recent years, water-related disasters, the gap between water supply and demand, and other problems concerning water have become global issues. These are critical issues for our business operations, which use water as a raw material. The Yakult Group has set fixed targets to reduce water consumption (per production unit) and formulated management plans to address water risks at production sites in order to promote the conservation and sustainable use of water resources.

Related SDGs
Conserving water resources and responding to water risks
At Yakult Honsha plants and bottling companies, we have been cutting our water use by recycling water and improving our operations, and have been minimizing our impact on rivers through total wastewater management. We have been regularly conducting water risk surveys and, based on the findings, reviewing our production processes and taking necessary measures.
We announced Environmental Vision 2050 in April 2021. In our Environmental Actions (2021-2024) and Environmental Targets 2030—set as short- and medium-term milestones for achieving the Environmental Vision 2050—we aim to reduce water usage by 3% over 2018 levels by the end of fiscal 2024, and by 10% by the end of fiscal 2030.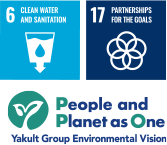 Main initiatives
Understanding water risks
To use water sustainably, we believe that we are required to recognize our water risks, including water supply and demand outlook in the river basins where our plants are located, the potential risk of water-related disasters, and impacts on public health and ecosystems. Since fiscal 2017 we have thus been performing water risk evaluation through an external organization.
*
WRI Aqueduct: A tool for evaluating water risks developed by the World Resources Institute (WRI), a global environmental NGO

Actively reusing water at Yakult plants
Fukushima Plant, Japan:
Reused concentrated impure water generated during the water purification process for product manufacturing to cool products and machinery
Ixtapaluca Plant, Mexico:
Water treated at wastewater treatment facilities is reused to water green spaces around the plant
Bangkok and Ayutthaya Plants, Thailand:
Treated water is purified using micro filters and used in toilets or for washing pallets, transport vehicles, and wastewater facilities
Tianjin Plant, China:
Created an online wastewater monitoring system networked with the Tianjin Ecology and Environment Bureau to lawfully discharge sewage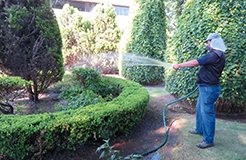 Using treated wastewater to water green spaces
(Yakult S.A. de C.V. (Mexico))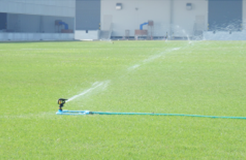 Using treated water from wastewater facilities for watering lawns
(Yakult (Thailand) Co., Ltd.)
For details, see "Water" of the Yakult CSR Report