Value co-creation with communities
Materiality

Our approach
Based on our corporate slogan, "In order for people to be healthy, everything around them must also be healthy," the Yakult Group recognizes the importance of co-creating value with communities and continuing our business activities in harmony with the environment. We also actively participate in building safer communities and contribute to local development for a sustainable society using our unique regional network of Yakult Ladies who deliver products to customers.
Message from the chief officer
The Yakult Group's business is rooted in local communities, with around 100 marketing companies throughout Japan.
The Yakult Lady home delivery system was launched in 1963 with the vision of contributing to the health of regional communities by explaining in detail how our products assist intestinal health so that customers understand and benefit from them. For customers that we cannot reach directly, we provide our products through alternative sales channels such as retailers and schools. We aim to help contribute to the health and happiness of people around the world using these sales networks.
As a good corporate citizen that contributes to society, we not only sell products, but also provide information on health and communicate the importance of healthy habits through our dispatch of guest lecturers, health-related lectures and in-store demonstrations. We engage in these activities both in Japan and around the world.
In Japan, we are also actively involved in initiatives to build safer communities through Courtesy Visit Activities and community safety watch and crime prevention activities. For these initiatives to be further successful, we recognize the importance of having workers in each region feel motivated, and create environments to make this possible.
We will continue promoting business activities that create value together with communities, with each individual involved in our Group giving their best in the spirit of altruism to help solve the particular issues of each region.
Tetsuya Hayashida
Director and Senior Managing Executive Officer
Divisional General Manager of Food and Beverages Division
Related SDGs
Health-related lectures and dispatch of guest lecturers to support healthy and enjoyable lifestyles
Our employees in Japan visit elementary schools and other locations, where they use scale models and explain in simple terms things like the important role of the intestines and proper daily habits conducive to good bowel functions. For adults, health-related lectures are held on a wide variety of topics including the importance of the intestines, probiotics, and seasonal ailments.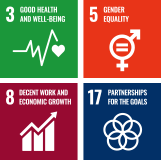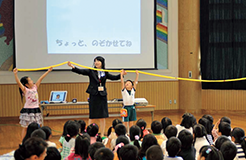 Dispatching guest lecturers (Japan)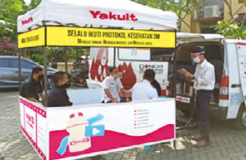 Health-related lecture
(P.T. Yakult Indonesia Persada)
*
Implemented before COVID-19 pandemic
Main initiatives
Community safety watch and crime prevention activities
While delivering products in their sales areas, Yakult Ladies contribute to communities' safety and peace of mind by participating in crime watch and other activities undertaken in cooperation with 925 local governments and police units around Japan.
Also we have made agreements with local governments and installed vending machines that will distribute their merchandise free of charge following severe earthquakes and other disasters, as well as models that incorporate security cameras to contribute to the safety and peace of mind of local communities.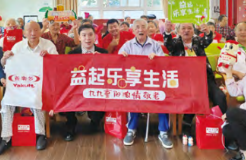 A vending machine in Takasaki City,
Gunma Prefecture
Support for elderly people living in poverty
Since February 2020, Yakult Deutschland GmbH in Germany has supported Herzwerk, a regional social project that cares for elderly people living in poverty in Dusseldorf. They sponsored and prepared healthy breakfasts that were distributed to the elderly, and also donated one euro for every Herzwerk digital Christmas card sent, which was used to fund Easter presents for elderly people.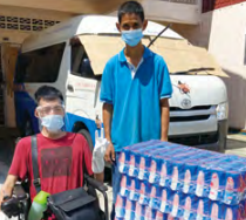 Presents for the elderly
(Yakult Deutschland GmbH)
For details, see "Value co-creation with communities" of the Yakult CSR Report