Innovation
Materiality

Our approach
We recognize that in order for the Yakult Group to continue growing sustainably, we need to engage more in product development through the pursuit of excellence in life science in general and our research and experience in microorganisms in particular, as well as create services that provide new value. We will listen to feedback from our stakeholders and generate innovations that will help solve social issues, and bring about our evolution toward a healthcare company.
Message from the chief officer
Yakult traces its history to the start of the 20th century, when Yakult's founder, Dr. Minoru Shirota, grew distressed by the children who lost their lives to infectious diseases and set his sights on helping people avoid getting sick instead of treating diseases after they occur, or preventive medicine, and started down the path of microorganism research. The fermented milk drink Yakult was subsequently born out of continued research focusing on lactic acid bacteria. In an era when therapeutic medicine was the norm, this was without doubt an innovation that offered new value from the novel perspective of preventive medicine.
Inheriting the passion and vision of Dr. Shirota, we pursue excellence in life science by gathering evidence and are continuing to provide products that contribute to the health and happiness of people around the world. Today, Yakult's dairy products are loved by people in 40 countries and regions worldwide. We believe that the fruits of our innovations have been contributing to the health of numerous customers.
In keeping with our mission to contribute to the health of people around the world, the Yakult Group will continue to utilize our research findings and long experience with lactic acid bacteria and other beneficial microorganisms, advance microbiome research based on our own basic research, and pursue new possibilities through collaboration with outside resources, while providing products and services that lead toward solutions to the mounting health and social issues throughout the world. We aim to provide new value by contributing to the health of as many people as possible and evolve into a healthcare company.
Fumiyasu Ishikawa
Director and Senior Managing Executive Officer
Divisional General Manager of Research & Development Division
Related SDGs
Contributing solutions to social issues
Mental healthcare is nowadays considered important in our stressful modern society. In light of this, studies have shown that intestinal bacteria are deeply involved in the gut-brain axis, the interaction between the gastrointestinal tract and brain (microbiota-gut-brain axis). We further advanced our research on Lactobacillus casei strain Shirota's action to improve the intestinal environment and went on to verify its functionality via the gut-brain axis. In human studies, we were able to demonstrate the effect of the continuous ingestion of Lactobacillus casei strain Shirota in relieving stress and improving sleep quality. We applied these research findings in the development of food products with this functionality and marketed as Foods with Function Claims.
In March 2020, to support the nutritional intake of people eating meals in nursing homes and other facilities that use food catering services, we enhanced the nutritional content of Joie and launched new small-sized 80 ml bottles for easier consumption. In April of the same year, we also launched a new fortified Isshokubunno Multivitamin Tomato & Red Grape for the Kininaruyasai lineup (125 ml).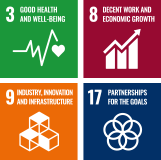 Main initiatives
Advancing bacteriology research for human health
At the Yakult Central Institute, the pillar of our research activities is on the intestinal microbiota from the perspective of preventive medicine and probiotics*1 that help maintain and enhance the health of people. We are studying the difference between the intestinal microbiota of people in Japan and those around the world, as well as determining the relationship between the intestinal microbiota and disease to contribute to people's health.
For example, our research confirmed that regular consumption of beverages with Lactobacillus casei strain Shirota*2 helps relieve stress and improve sleep quality for people under temporary mental stress. These findings led to the launching of the fermented milk drink Yakult 1000, which contains 100 billion Lactobacillus casei strain Shirota per 100 ml bottle.
*1
Defined by FAO/WHO in 2002 as "live microorganisms which when administered in adequate amounts confer a health benefit on the host"
*2
Classified as Lacticaseibacillus paracasei strain Shirota since April 2020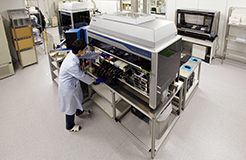 Intestinal flora analysis system
YIF-SCAN®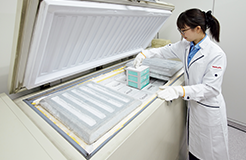 Collection of microorganisms such as
lactic acid bacteria and bifidobacteria
Joint study with the National Institute of Nutrition, Ministry of Health, Vietnam
A joint study with the National Institute of Nutrition in Vietnam showed that continuous consumption of dairy products containing Lactobacillus casei strain Shirota by young children in Vietnam lowered the incidence of constipation and acute respiratory infections, as well as tended to lower the incidence of diarrhea. The results were published in the European Journal of Clinical Nutrition (September 28, 2020).
For details, see "Innovation" of the Yakult CSR Report