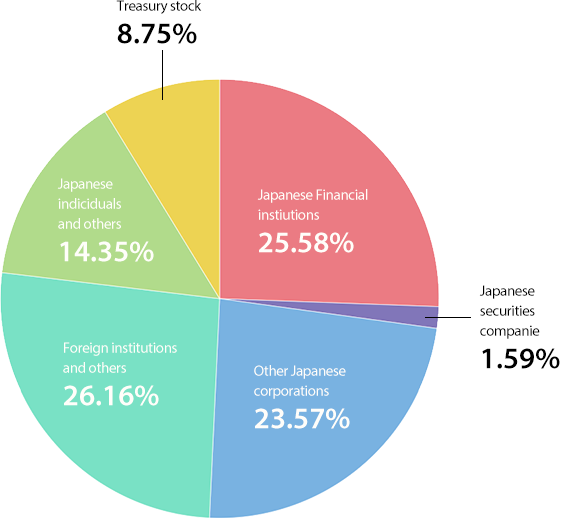 Name of shareholder
Number of share held
(Thousands of shares)
Percentage of Shares held
The Master Trust Bank of Japan, Ltd. (Trust account)
12,104
7.08%
Custody Bank of Japan, Ltd.(Trust account)
7,562
4.42%
Fuji Media Holdings, Inc.
6,492
3.80%
Mizuho Trust & Banking Co., Ltd. (Retirement benefit trust (Mizuho Bank Account))
4,957
2.90%
Kyoshinkai
3.834
2.24%
Matsusho Co., Ltd.
3,417
2.00%
Mizuho Bank, Ltd.
2,186
1.28%
Custody Bank of Japan, Ltd.(Trust account 5)
2,119
1.24%
STATE STREET BANK WEST CLIENT - TREATY 505234
2,043
1.19%
Mr. Teruo Nakamura
2,031
1.19%
Distribution of Ownership Among Shareholders (As of March 31, 2021)

1. Kyoshinkai is a shareholding association whose members are Yakult sales companies, which are our business partners.
In addition to the above, the Company holds 10,551 thousands(6.17%) of its own shares.
2. Mr. Teruo Nakamura passed away on December 27, 2020, but he is listed as a shareholder of record because it has not been finished transfer of shares.