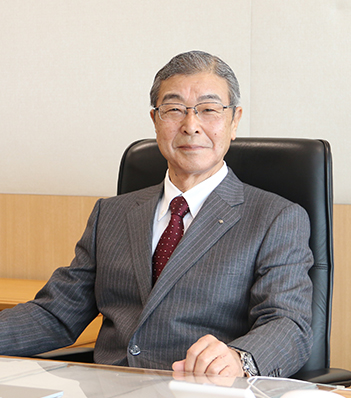 —Entering the New Year 2019—
I would like to
wish everyone
a Happy New Year.
Introduction
The year 2019 marks the 120th anniversary of the birth of Yakult's founder, Dr.
Minoru Shirota. In October of last year, we held the first Yakult World Con-
vention in three years in Kyoto, a place that is deeply associated with Dr.
Minoru Shirota.
On the day of this convention, a total of approximately 2,700 people, mainly made up of Yakult Ladies and employees chosen from Japan and all around the world, gathered in Kyoto to attend the awards ceremony and other events. At this wonderful convention, I was able to feel again the sense of unity and strength of the Yakult Group. I strongly believe that the success of this convention has increased the motivation of the Yakult Ladies and employees who participated in this event to play ever more active roles in their respective countries.
External organizations, too, showed great interest in the daily activities of the Yakult Group including those by Yakult Ladies, and last year we received two prestigious awards. It is a great honor to receive these awards, and I am truly grateful for this.
One of the awards was the METI (Ministry of Economy, Trade and Industry) Minister's Prize at the Second Nihon Service Award hosted by the Service PRoductivity & INnovation for Growth (SPRING) of the Japan Productivity Center. We received this award in recognition of our home delivery service by Yakult Ladies.
At present, more than 80,000 Yakult Ladies are active in Japan and abroad. This model of home delivery service which originated in Japan has been implemented in 12 foreign countries and regions, and has been highly appreciated as "a popular service that transcends the times and borders." I believe that we received this award largely because of the contribution of each Yakult Lady, as well as thanks to customers who bought products from Yakult Ladies.
The other award was the Special Award (SDGs Partnership Award) at the Second Japan SDGs Award hosted by the Sustainable Development Goals (SDGs) Promotion Headquarters. We were given this award in recognition of our initiatives based on the Yakult Group's corporate philosophy of "contributing to the health and happiness of people around the world" through the production and sales of Yakult, a product that benefits people's health. In particular, the home delivery business in which Yakult Ladies deliver products while mainly providing health information has been highly rated for raising people's health consciousness and leading to the participation of women in the workplace and their active roles. Going forward, the Yakult Group will continue contributing to the achievement of the sustainable development goals of "good health and well-being" and "decent work and economic growth," among other things.
Strongly encouraged by these two awards, the Yakult Group will make a concerted effort this year also to make great strides with the passion and power we shared with participants at the World Convention.
Overview of Business Operations
Although there are three more months until the end of fiscal 2018, the consolidated results for the six months ended September 30, 2018 announced in November showed a 2.9% year-on-year increase in net sales to approximately 203.5 billion yen, a 4.3% year-on-year increase in operating profit to approximately 23.7 billion yen, a 9.9% year-on-year increase in ordinary profit to approximately 29.5 billion yen, and a 19.2% year-on-year increase in profit attributable to owners of parent to approximately 21.3 billion yen, as both revenues and income rose.
The average number of bottles of dairy products, which are core products, sold worldwide per day surpassed 40 million bottles, driven by the international business. Customer development is making steady progress around the world.
At the same time, we also announced our full-year results forecast.We expect record highs for net sales and all stages of profit, with net sales of 418.0 billion yen, operating profit of 48.0 billion yen, ordinary profit of 58.5 billion yen, and profit attributable to owners of parent of 39.0 billion yen.
Conclusion
This year marks the end of the Heisei Era as the new era begins. I believe that we need to keep up with various environmental changes such as political and economic developments in Japan and abroad and advances in social infrastructure resulting from technological innovation. To this end, we must be sensitive to global trends at all times and develop our competitive strength.
Although there are two years and three months left until the end of fiscal 2020, the final year of the third phase of our long-term vision "Yakult Vision 2020," this year is a crucial year for achieving the goals. Based on "realization of the corporate philosophy," "realization of improved corporate value," and "realization of continuous growth," which are the concepts behind the formulation of the Phase III Plan, we will steadily move forward as we undertake customer development for Yakult all over the world to achieve the quantitative goals for fiscal 2020 of an average number of bottles of dairy products sold worldwide per day of 43.50 million bottles, consolidated net sales of 454.0 billion yen, and consolidated operating profit of 57.0 billion yen.
This concludes my New Year's message.
I would appreciate your continued support this year.

Takashige Negishi,
President
Yakult Honsha Co., Ltd.