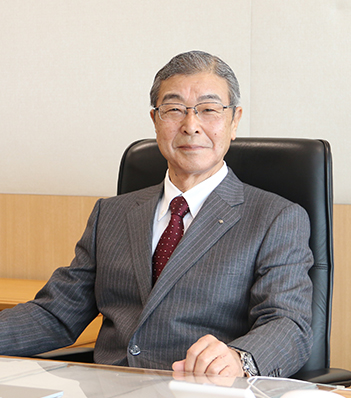 President's New Year's Message
—Entering the New Year 2020—
I would like to wish everyone a Happy New Year.
Introduction
Last year, 2019, marked a critical juncture in Japan with the transition of the imperial
era from Heisei to Reiwa.
For the domestic business of the Company too, the year 2019 became a new juncture
for the next era.
On October 1, we released Yakult 1000 as the Company's first Food with Function Claims product following the confirmation of a new function of Lactobacillus casei strain Shirota (which protects the health of the stomach by regulating intestinal function). We have been communicating the benefits of Lactobacillus casei strain Shirota since the Company's founding.
Yakult 1000 is a product that helps to mitigate the stress of temporarily stressful conditions and also improves the quality of sleep (depth and feeling of refreshment).
Although Yakult 1000 is currently sold only in Tokyo and six prefectures, the product has been highly rated by many customers.
Yakult 1000 is a Yakult product that provides a completely new value and function through a large quantity and high concentration of lactic acid bacteria, containing 100 billion live Lactobacillus casei strain Shirota per 100 ml bottle.
In the future, we plan to launch Yakult 1000 nationwide after accumulating know-how in the areas in which we first introduced the product. We intend to promote understanding of the product's value among many customers and nurture Yakult 1000 as a core product.
Furthermore, in January of this year, a new product Yakult 400W will be added to the Yakult 400 series, a core product series in our home delivery channel.
This product enables the consumption of Lactobacillus casei strain Shirota, which reaches the intestine alive, together with galacto-oligosaccharides, which increase lactic acid bacteria in the intestine. We plan to launch this product first in Kyushu and then on a nationwide scale in a timely manner.
Owing to further aging of Japan's population in the future, consumers will become increasingly health conscious. As a pioneer in the field of probiotics, the Company intends to continue contributing to the maintenance of people's health.
Overview of Business Operations
At present, Yakult and other dairy products are sold in 40 countries and regions in Asia and Oceania, including Japan, the Americas, and Europe, and the number of customers continues to grow steadily every year. The average number of bottles of dairy products sold worldwide per day already surpassed 40 million bottles in the fiscal year ended March 31, 2019.
Although 40 million bottles per day is a large number, the population ratio of 1.8% means that only 1.8 persons out of 100 persons living in the marketing areas consume our products. We intend to continue striving to undertake activities in each country.
Next, I would like to present an overview and discuss our future development in China, the largest country in terms of territory and population among countries where we have full-scale operations.
Currently in China, major changes are taking place as consumer sentiment has declined as a result of trade friction with the U.S. while consumption behavior is shifting to the e-commerce market. As such, consumers are increasingly following a trend of selective consumption where they are willing to spend money on things of value while restricting unnecessary expenses. Under these circumstances, they are becoming more and more health conscious. In response to these trends, we are intent on carrying out various activities to get the value of Yakult across to as many people as possible in our customer development efforts in existing markets.
Meanwhile, to deal with a decrease in sales volume at mass retailers due to changes in consumption behavior, we are creating purchasing opportunities for customers by focusing on expansion of new sales channels such as retailers, schools, and hospitals.
I would like to also discuss our medium- to long-term business development.
Yakult's business in China commenced in Guangzhou in 2002. After 17 years from the commencement of business, we have at long last created an environment where 730 million people, or approximately half the total population of China, can purchase Yakult as a result of business development focused on retail store sales. Going forward, we intend to continue our efforts to develop new customers by pushing ahead with planned entry into new markets while further cultivating existing markets.
Conclusion
Under our corporate philosophy of "We contribute to the health and happiness of people around the world through pursuit of excellence in life science in general and our research and experience in microorganisms in particular," we will aim to continue helping people around the world live healthy lives.
This concludes my New Year's message.
I would appreciate your continued support this year.

Takashige Negishi,
President
Yakult Honsha Co., Ltd.