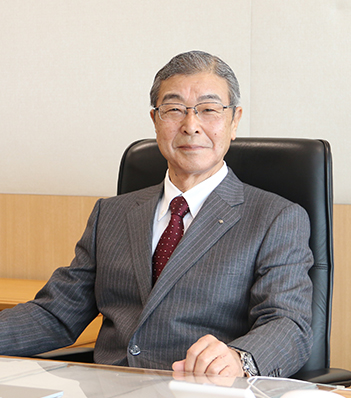 Top Message
—Results Briefing, May 14, 2020 (Extract)—
Introduction
For the fiscal year ended March 31, 2020, our net sales came to 406.0 billion yen, and operating profit amounted to 45.6 billion yen, delivering results that were broadly on
par with those of the previous period.
We announced consolidated results forecasts for the fiscal year ending March 31, 2021
of 411.0 billion yen in net sales, 47.0 billion yen in operating profit, 37.0 billion yen in
profit attributable to owners of the parent, and 230.95 yen in profit per share.
While these forecasts are based on the assumption that our mainstay food and beverages segment will not be significantly impacted by the novel coronavirus either in Japan or overseas, the potential effects of a second and third wave of infection cannot be overlooked and introduce uncertainty into the future outlook. It is, moreover, likely that the situation will vary greatly between countries. In light of these factors, we will undertake to inform our stakeholders of any significant impacts to our business caused by the coronavirus.
For the professional baseball team operation, in the Others segment, the forecasts assume some deterioration in results due to the delayed start of the regular season as well as the predicted reduction in attendance after the season starts.
The year-end dividend for the fiscal year ended March 31, 2020 is, as was originally planned, 23.0 yen per share, for an annual dividend of 46.0 yen per share. As in previous years, the dividend for the second half of the fiscal year will be paid in early June.
Main Businesses: Current Situation and Future Outlook
Domestic Business
In April a state of emergency was declared within Japan. We responded in line with local government requests for people to stay home, paying particular attention to the health and safety of customers and employees in our home delivery segment. In specific terms, we suspended deliveries by Yakult Ladies in some densely populated urban areas, while adopting alternative delivery methods that avoided direct contact for customers who still required deliveries, such as providing a special cooler box to leave deliveries in. We also sold products at Yakult centers (the sites from which Yakult Ladies operate).
In the direct sales segment, which is primarily retail store-based, demand for yogurts and fermented milk drinks at general merchandise stores and supermarkets has increased nationwide during the past three months. In contrast to this, however, the closure of elementary and junior high schools resulted in the delivery of products for school lunches stopping, while the suspension of businesses and offices has led to significantly reduced demand for vending machine products, which has continued for the past two months.
The following is a description of the products we will be focusing on as we develop our business during the fiscal year ending March 31, 2021.
In October, 2019, we released Yakult 1000 in Tokyo and the six other prefectures of the Kanto region, and sales have exceeded targets. As per a news release that was issued on May 14th, we are planning to launch sales of this product via the home delivery channel across the entire Hokkaido and Tohoku regions, as well as in Shizuoka, Yamanashi, Nagano, and Niigata prefectures from August 31 of the current fiscal year. Work establishing the requisite production capacity is currently underway.
Furthermore, as we previously announced, we are extending the sales regions for Yakult 400W, which we launched in the Kyushu region via the home delivery channel in January this year. In April 2020 we extended sales to all of the Chugoku and Shikoku regions, along with part of the Kinki region, and in June we will expand across the entire Kinki region, as well as all of Aichi, Gifu, Ishikawa, and Toyama prefectures.
Yakult 1000 and Yakult 400W are both products of our research and are both firmly supported by reliable evidence. By extending the sales regions for these high added-value products, we hope to give even more customers the opportunity to experience their benefits.
International Business
Outside Japan, our business activities have been significantly impacted by the spread of the novel coronavirus. Fortunately, however, Yakult has been recognized as an essential product in multiple countries, allowing production to continue at almost all of our overseas businesses. We have therefore been able to continue production and delivery to stores—primarily mass retailers—even in regions where lockdowns and other restrictions have been imposed. In the Philippines, however, household isolation measures were enacted across a broad geographical area encompassing the whole of Luzon Island, where the capital Manila is located. All residents were prohibited from going out, and public transport was stopped. Consequently, although employees at our plant in the region usually work a three-shift system, we were forced to reduce operations to a single shift for some time. Meanwhile, in our home delivery segment, we had to suspend the activities of Yakult Ladies in China and Indonesia, among other countries.
The situation in specific countries is detailed below.
Indonesia
Sales were continuing to grow steadily at the beginning of 2020, but on March 20, the provincial government of the capital city Jakarta declared a state of emergency. As a result, in April, approximately two thousand Yakult Ladies in Jakarta and its suburbs had to suspend their sales activities.
As has been noted in the past, the home delivery system operated by Yakult Ladies has been a key driver of our results in Indonesia. It is a business model unique to Yakult, and we regard every single Yakult Lady as a vital asset within our company. For the Yakult Ladies who had to suspend their sales activities due to the spread of the novel coronavirus, therefore, we have offered compensation for absence from work, as well as support for physical and mental health, and other assistance. Although these Yakult Ladies cannot work at the present time, we are supporting them as best we can with the hope that they will return to work with us again once this situation abates. We believe that, once the Yakult Ladies resume their sales activities, they will be able to make up for the shortfall during this time.
We are currently taking similar steps in other countries.
China
As announced in another news release, published May 14th, we plan to establish three new sales offices in China. In July, we will open branches in Hengyang and Wuhu, under Yakult (China) Co., Ltd, followed by a branch in Zhaoqing to be opened in August, under Guangzhou Yakult Co., Ltd.
By establishing these three sales offices we will further enhance the visibility and presence of Yakult products at retail stores, and further highlight the value of Lactobacillus casei strain Shirota and communicate the importance of consuming Yakult products continuously. Through these measures we seek to improve the understanding of our products among customers in regions where we already operate.
Yakult's operating environment in China has changed significantly, as purchasing behavior shifts from in-store shopping to e-commerce, and competing products continue to emerge as local dairy industry manufacturers bring new dairy products to market. Meanwhile, it has been reported that during the spread of the novel coronavirus, the National Health Commission of the People's Republic of China recommended the consumption of dairy products.
Given these circumstances, we are starting to consider the release of high added-value Yakult products as a means of enhancing the value of the Yakult brand and encouraging consumers to experience probiotics. We will also consider releasing high added-value Yakult products in the US and European countries.
Pharmaceutical Business
With reforms to Japan's prescription drug price system underway, the situation remains challenging, and we are unfortunately planning for losses again during the fiscal year ending March 31, 2021. However, the sale of anticancer drugs—an area in which we excel—requires experience, and we believe that with us having this experience, the number of occasions when Yakult's services are required will continue to increase. That is why, for our existing mainstay product Elplat, we will be making the most of the MR network, one of our key assets, as we redouble our efforts to provide information on the latest treatments and proper use of the product with the aim of benefitting patients.
In October 2019 Yakult signed a promotion agreement with Nihon Servier Co., Ltd. for the antineoplastic drug Onivyde®, and on March 25, 2020, approval was obtained for the manufacture and sale of Onivyde for use in cases of inoperable pancreatic cancer that has progressed following chemotherapy. Once Onivyde has been added to the price list for reimbursement under the national health insurance scheme, we will move promptly to promote proper use of the drug alongside Elplat.
During the fiscal year ending March 31, 2021, we will continue actively pursuing such alliances with other companies and increasing sales by continuing to launch new generic drugs.
Other Businesses
In the professional baseball team operation, under Yakult's other businesses, both sales and profits performed well during the fiscal year ended March 31, 2020, reflecting increases in attendance and in sales of branded products and merchandise. For the fiscal year ending March 31, 2021, however, the start of the regular season is still postponed indefinitely, making it impossible to hold the usual number of games. We are working under the assumption that the season will start around mid to late June, and are preparing accordingly.
This concludes my explanation of Yakult's current circumstances and initiatives.
I look forward to and appreciate your continued support during the current fiscal year.

Takashige Negishi,
President
Yakult Honsha Co., Ltd.