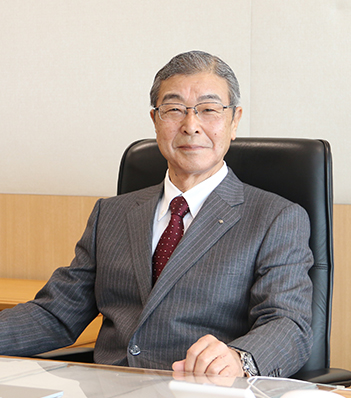 My name is Hiroshi Narita. I became president and representative director of Yakult Honsha on June 23, 2021. I am sobered by the immense responsibility of this position, but I bring my heart and passion to the task of meeting your expectations as one of our stakeholders.
The Covid-19 pandemic which began in early 2020 has been a painful reminder to all of us of the importance of staying healthy. Almost nine decades have passed since Yakult founder Dr. Minoru Shirota developed Yakult fermented milk drink, building on his discoveries into the usefulness of lactic acid bacteria for intestinal health, disease prevention and longevity. The product he developed is now enjoyed every day by more than 40 million people in 40 countries and regions worldwide. While separated by language, culture, and dietary customs, those people share at least one thing in common: the desire for better health. At Yakult, we will continue to do our part to communicate the benefits of probiotics so that more people drink Yakult in countries all around the world.
In an era when diversity is valued more than ever, social issues and the solutions that address them are diversifying, with greater respect paid to individual health preferences and goals. Within this context, what should Yakult be doing to better contribute to the health of the world's people? Our answer to this question is Yakult Group Global Vision 2030. This vision outlines three qualitative goals on our path to becoming a global healthcare company: deliver health solutions to more people worldwide, provide new value focused on the challenges of individual people, and improve the relationship between people and planet.
We also recognize environmental, social, and governance (ESG) initiatives as vital to increasing our business value. Through the Yakult Group Environmental Vision, we set a goal to achieve net-zero greenhouse gas emissions by 2050. And we are committed to responsible conduct in all areas of our operations, so that our business supports the creation of a more sustainable world.
We remain committed to delivering products that are safe and can be used with peace of mind, and to making a positive difference in our local communities. We also take seriously our responsibility to engage in fair and ethical business and to practice sound governance of our organization.
Above all, we will strive tirelessly to become a company that serves all of its stakeholders—most importantly our customers around the world. I ask for your continued guidance and support.

Hiroshi Narita,
President and Representative Director
Yakult Honsha Co., Ltd.