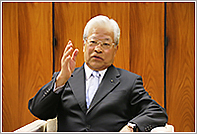 For the fiscal year ended March 31, 2018, net sales and operating income amounted to ¥401.5 billion and ¥43.4 billion, respectively. With the core food and beverage business acting as the driving force in Japan and overseas, both revenues and income increased from the previous fiscal year.
For the fiscal year ending March 31, 2019, we announced our consolidated results forecast which calls for net sales of ¥418.0 billion, operating income of ¥46.5 billion, net income attributable to owners of the parent of ¥35.5 billion, and net income per share of ¥221.19.
Principal business initiatives are as follows.
International Business
Regarding international business, the Company first undertook overseas operations in Taiwan in 1964, and this year marks the 55th year of operations in Taiwan. At present, the Company has operations in 37 countries and regions with 22,000 employees and 46,000 Yakult Ladies around the world.
Yakult's international business has expanded all over the world as a result of the people living in the country where operations are undertaken playing a central role in manufacturing Yakult and explaining the products to increase customers, while we protect the quality set in Japan for the sake of the people in these countries in which we operate. At present, the understanding of probiotics has deepened, and expectations for probiotics are rising throughout the world. We intend to continue carrying out activities that contribute to the health of the people all over the world by encouraging them to drink Yakult.
Brazil
Half a century has passed since operations started in Brazil in 1968. After the number of bottles sold reached a peak 30 years after commencement of operations, it was reduced by half due to the impact of turmoil in the market economy caused by hyperinflation. Thereafter, the Company dispatched employees from Japan to rebuild operations in Brazil. Such rebuilding efforts entailed reviewing the home delivery system and transactions with stores to which our products are delivered, mainly in Sao Paulo. As a result of these efforts, the number of bottles sold has recovered. In recent years, although the number bottles sold has struggled due to falling personal consumption stemming from inflation once again, we will aim at continuous growth since economic indicators have shown some improvements recently.
Mexico
Operations in Mexico have entered their 38th year this year since their commencement in 1981. In the 15th year of operations and thereafter, operations were expanded to the rural areas and the number of bottles sold has grown. At present, our marketing population is approximately 95 million people, or nearly 80% of Mexico's total population of 120 million.
The population ratio (a rough indication of the status of penetration calculated by dividing the average number of bottles sold per day by marketing population) for fiscal 2017 was only nearly 4% for Mexico as a whole. However, in Mexico City, the capital of Mexico, which has long been a market for Yakult, and the neighboring State of Mexico, the population ratio exceeds 6%, thus indicating progress made in market penetration. Based on such cases, we believe that we can achieve stable growth through meticulous market creation in other cities as well.
Indonesia
Operations in Indonesia have entered the 28th year since their commencement in 1991. After pushing forward the creation of a market in both the home delivery and retail store channels for more than 10 years, we initiated policies focused on the home delivery channel and earnings rapidly expanded as a result of enhancement of skills through training and an increase in Yakult Ladies. Although the number of bottles sold in the previous fiscal year slowed down somewhat due to factors such as unseasonable weather conditions and declining personal consumption, we intend to aim at further expansion of earnings by continuing to strengthen the organization with focus on human resource development.
China: Guangzhou (Guangdong)
The Yakult business in China, which started in Guangzhou in 2002, entered its 17th year. Owing to business expansion mainly in Guangzhou and Shenzhen which have a population of over 10 million each, the number of bottles sold has steadily increased every year. Since the number of bottles sold in these large cities is expected to continue growing in the future, we will continue proceeding with market penetration. We will also push ahead with expansion and penetration of the market in satellite and provincial cities other than these two large cities. We established new sales bases in Qingyuan and Huizhou last year and in Zhongshan in January of this year. We believe that the sales network within the area will expand as a result of the establishment of new sales bases, thereby accelerating market expansion and market penetration in the retail store channel.
China: Other areas of China (other than "Guangdong Province, Shanghai, Beijing")
Since the commencement of operations in these areas in 2006, the number of bottles sold has been steadily rising every year as a result of gradually pushing ahead with the expansion and penetration of the sales markets. As of the end of 2017, our operations have been focused mainly on retail store sales targeting 560 million people. However, considering that more than one billion people are living in these areas, we intend to continue expanding the sales area every year in an effort to proceed with creating a market where more people can get hold of Yakult at retail stores.
In addition, in existing markets, there were 32 sales bases as of the end of December 2017, and we are working to expand the distribution network. In the coastal areas into which we made an early entry, we have established new sales bases in cities located near existing sales bases to extensively operate a finely tuned sales network and create markets with more conentration. As for sales bases in the inland areas, since many of the bases are still in the early stage of operation, we are proceeding with market creation by expanding the sales network in a similar fashion to widening ripples with each sales base at the core.
Compared with Guangzhou, a leading market, the marketing population managed by a single sales base is 1.6 times that of Guangzhou. However, the number of retail stores to which our products are delivered per single sales base is two-fifth of that of Guangzhou. As such, the population ratio still has much room to rise as it stands at 0.6% compared with approximately 3% for Guangzhou. Going forward, we intend to continue working to create opportunities to purchase our products by expanding the number of retail stores to which our products are delivered as we push ahead with enhancing the sales network.
Domestic Food and Beverage Business
The Company, in order to enhance the value of the Yakult brand, has been channeling its energies into advertising through the media from two years ago, while implementing price revisions commensurate with the value of the products. As a result of advertising and sales activities linked thereto in each region, the number of bottles of dairy products sold, centered on the New Yakult series in the retail store channel and the Yakult 400 series in the home delivery channel, showed an increase. In order to enable customers to keep choosing the Yakult brand in the future, we are intent on not only creating safe and secure products but also taking initiatives such as providing health information to convey the importance of keeping drinking our products.
Regarding our advertising efforts for this fiscal year, we will focus on the key themes of "concentrating on the Yakult brand and enhancing the freshness of major dairy products" as well as "maximizing contact between Yakult and customers and continue gaining fans."
In TV commercials, we will continue the "three arrows in Yakult advertisements" this year, which marks the third year of this effort. By using easy-to-understand taglines without changing the concept, we will maximize the cumulative effect of TV advertisements to more powerfully convey the product appeal and brand power, R&D and technology capabilities, and organizational and sales capabilities.
In addition to advertisements, we will also proceed with providing information on the functions and future potential of lactobacillus through publicity activities so that consumers will have a more favorable image and attachment to the Yakult brand.
More than 3,000 dispatching guest lectures (activities aimed at explaining the mechanism of digestion and the functions of lactobacillus, among other things, at schools) have already been conducted in a year for more than 200,000 participants. This initiative is held in high regard in educational settings. We plan to focus more energy on this initiative along with plant tours. In addition, regarding joint research with the Japan Aerospace Exploration Agency (JAXA) which we are undertaking as a key theme for the future, both companies are promoting publicity activities to communicate the potential of lactobacillus.
At the same time, we are receiving a growing number of requests for lectures at training sessions on the efficacy of Yakult's probiotics products in the field of medicine for physicians, nurses, pharmacists, nutritionists and other opinion leaders. As such, we will continue channeling our energies into this initiative in the current fiscal year.
Meanwhile, in sales sites that are closer to customers, we will press ahead with proactively implementing community-based value dissemination activities.
Regarding home delivery, as an initiative to further enhance the superiority of Yakult's home delivery, we will focus more efforts on carrying out area value dissemination activities, such as health-related lectures, in addition to activities undertaken by Yakult Ladies to communicate the value of products directly to customers. Furthermore, with regard to the home delivery online order system Yakult Delivery Net , which started last year, we will commence nationwide operation during the current fiscal year while channeling our energies into actively promoting the use of this system.
As for retail stores, in supermarkets, the Company's top-priority market, the field staff of sales companies will step up efforts to create sales venues and the promotion staff will intensify activities to gain customers. Meanwhile in the convenience store market, owing to progress in the creation of a product lineup for channel targeting, we will work to secure and expand sales venues through the introduction of standard products. In "other markets," we will conduct value dissemination activities for dairy products targeted mainly at hospitals, schools and offices in order to push ahead with gaining customers.
As described above, we intend to further enhance the value of the Yakult brand by comprehensively linking product, advertisement, public relations, and sales activities to facilitate efforts for gaining customers.
Pharmaceuticals Business
Our results forecast for the pharmaceuticals business for the current fiscal year calls for a severe outlook for both net sales and operating income.
There are two adverse factors for net sales: revision of the NHI drug price and the replacement of Elplat with generic drugs.
Regarding the first factor, revision of the NHI drug price, the price of Elplat was lowered by 12.3% and ethical drugs handled by the Company overall saw a price reduction in the mid-10% range in this revision.
Regarding the second factor, the replacement of Elplat with generic drugs, we expect Elplat to be increasingly replaced with generic drugs in the future due to the government's push to further promote the use of generic drugs in an effort to boost the "use of generic drugs to 80% by September 2020."
Although we are facing a decline in net sales, we intend to achieve a recovery and expansion of revenues over the medium to long term in order to continue conducting pharmaceuticals business specializing in the field of oncology.
Since we need new materials to increase net sales, we are increasing R&D expenses under the plan for the current fiscal year.
As for revenues for the next fiscal year and onwards, we expect the deficit to decrease. However, as it would take time to recoup R&D investments, we anticipate going through a difficult period for three years. Thereafter, we will aim to achieve a recovery and expansion of revenues through an increase in net sales.
Even during that period, considering that current co-promotion of Zaltrap® with Sanofi K.K. is making more progress than initially planned, we will endeavor to expand alliances with another company based on this successful case.
Global Offering
In March of this year, Danone, the Company's largest shareholder, sold a portion of its holdings of the Company's shares in the form of global offering. As a result of such secondary offering of shares, Danone's shareholding percentage decreased from approximately 20% of total shares issued to 6.2%.
Along with this secondary offering of shares, the memorandum of understanding with Danone was amended.
In the new memorandum of understanding, the Company and Danone agreed to continue engaging in joint ventures, probiotics promotion activities, and research activities that have been jointly undertaken by them. They also agreed to consider the feasibility of new collaborative businesses, such as sales of the Company's products by Danone in the European market that the Company has yet to enter on a full scale.
The Company and Danone have built an amicable long-term relationship, and intend to continue this good relationship in the future for the purpose of continuing promoting probiotics globally.
This secondary offering of shares has enhanced the liquidity of the shares of the Company as well as increased the number of domestic and overseas shareholders. Going forward, we are intent on achieving continuous growth of business and also meeting the expectations of shareholders.
As for returns to shareholders, the Company strengthened returns to shareholders through a ¥36 billion repurchase of shares at the time of offering, as well as retirement of all shares. Based on the policy of placing priority on the payment of stable and continuous dividends, our dividend forecast for the fiscal year ending March 31, 2019 calls for an increase in annual dividend of ¥6.0 per share to ¥40.0
With respect to information disclosure too, we will proceed with enhancing "IR Information" on the Company's website. Specifically, in consideration of the increase in overseas investors, we will disclose more financial statements in English in addition to Supplementary Materials for Financial Statements. Furthermore, with regard to monthly information on the number of bottles of dairy products sold domestically which has been posted in trade publications, we are preparing to disclose such information on the website from the standpoint of fair disclosure.
The Company is intent on striving to become a more attractive business corporation, and therefore asks for your continued guidance and encouragement in the future.