Participation by employees and their families contributes to the preservation of biodiversity.
Biodiversity, an important issue for Yakult
Yakult clearly stipulates in one of the Action Directives in Yakult Basic Policy on the Environment that "In all business activities, business units will give due consideration to the environment as well as biodiversity by promoting the reduction of environmental impacts." We believe it is essential to give consideration to the global environment and biodiversity in our corporate activities that aim to benefit the health of our customers. We will strive to conserve biodiversity going forward by making good use of the technology we have built up in research and development over the years.
Relationship between business activities and biodiversity
At each step of our business activities (raw material procurement,manufacturing to disposal, and recycling), we identify how dependent we are on nature and what effect we are having on the environment. We then clarify the relationship between business activities and biodiversity and promote initiatives that take biodiversity into account.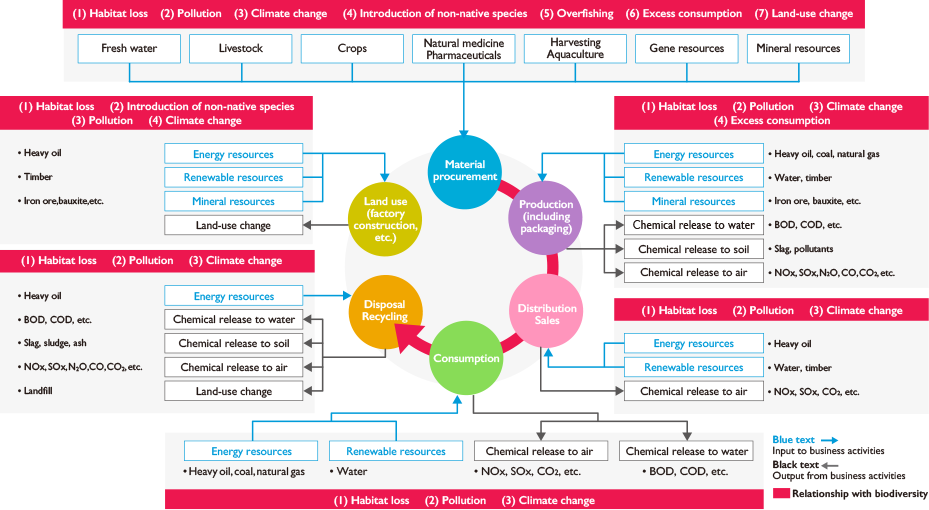 Our business activities are closely connected with biodiversity at all stages, from material procurement to production, distribution, sales, consumption, disposal and recycling.
Material procurement
The main ingredients used for Yakult products include skim milk powder, whole milk powder, and cream. Dairy farming is supported by water and grain for raising cattle, as well as pasture lands. Also, besides being an ingredient for our products themselves, water is also indispensable for grain feed and a variety of other crops that support the production of various Yakult products. Maize and sugarcane are used for the sugars.
Production
Production involves many essential inputs, such as electricity (from heavy oil, coal, natural gas, etc., for power generation) and water, as well as pulp (wood), plastic (petroleum), and aluminum (bauxite), and other inputs required for packaging. There are possible concerns such as habitat loss and pollution at large-scale mining or extraction sites that provide the raw materials for containers and packaging, such as plastics (petroleum) and aluminum (bauxite). It is also important to consider the timber being used for pulp.
For example, as the world's natural forests decrease, there are growing concerns about sustainable forestry and illegally logged timber.
Logistics and Sales
In logistics and sales, pulp (wood) used for fuel (gasoline and diesel) of vehicles and wrapping paper is necessary.
Also, it is conceivable that it will have an impact on climate change due to emission of greenhouse gases by vehicle use, pollution due to nitrogen oxides, sulfur oxides and carbon monoxide, and use of electricity necessary for refrigeration.
Consumption
At the consumption stage, energy (electricity and natural gas) and water are used for refrigeration and container washing.
Disposal and Recycling
At the disposal and recycling stage, a lot of energy is used for incineration and others.
It is considered that the energy input by burning (disposal) of waste affects climate change and the emission of pollutants to the atmosphere.
Appropriate management of contaminated water by washing and incineration ash / slag is required to conserve biodiversity also.
Efforts to conserve biodiversity
Producing green vegetable juice without pesticides and chemical fertilizers (Yakult Health Foods)
Yakult Health Foods produces green vegetable juice using young barley leaves and kale exclusively from the Kunisaki Peninsula Usa area of Oita Prefecture, which is recognized as a Globally Important Agricultural Heritage System. The vegetables are raised by trusted contract farmers, who do not use pesticides or chemical fertilizers. We have established a high-quality and stable production base,through measures such as regularly exchanging opinions and holding cultivation training sessions with all of our contract farmers, as well as conducting research on organic fertilizers suitable for cultivation.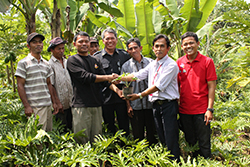 Contract farmers
P.T. Yakult Indonesia Persada: Local tree planting
Deforestation in Indonesia has become a serious global concern. The destruction of forests by illegal logging in a national park near the Sukabumi Plant has been identified as one factor contributing to increased risks of disasters from river flooding and landslides. To support the greening of this area, we have been carrying out afforestation activities since fiscal 2015.
In fiscal 2017 we donated 10,000 seedlings to NGOs working in the national park near the plant, and helped to plant them. Starting in 2018 we plan to expand the activities to the area near our Mojokerto Plant. In the future we also plan to involve more employees in these activities to conserve biodiversity and to develop stronger ties with local communities.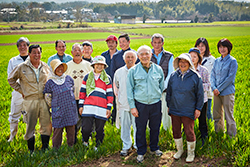 Donation of seedlings to NGOs