Yakult's corporate activities are centered on the development, manufacture and sale of food and beverages, pharmaceuticals and cosmetics. With our corporate philosophy of "we contribute to the health and happiness of people around the world through pursuit of excellence in life science in general and our research and experience in microorganisms in particular," we conduct these activities based on the Shirota-ism principles of "preventive medicine," "a healthy intestinal tract leads to a long life" and "a price anyone can afford." We are actively tackling a number of issues in building a sustainable society based on the belief that our corporate activities themselves are a social responsibility, as we believe that in order for people to be healthy, everything around them must also be healthy.
Welcoming 2019 with record achievements in both sales and profits
The Yakult Group achieved both record sales and operating profits in fiscal 2018, the second year of Phase III of our long-term vision, Yakult Vision 2020. We are delighted to see these kinds of results in the 120th anniversary year of the birth of Minoru Shirota, our founder and Doctor of Medicine. Growth has been particularly steady in Asia, with Yakult having a 60% share of the fermented milk drink market in the areas of China where our products are available, and we have also made significant expansions in relatively new countries for us, such as Vietnam, India, and the United States.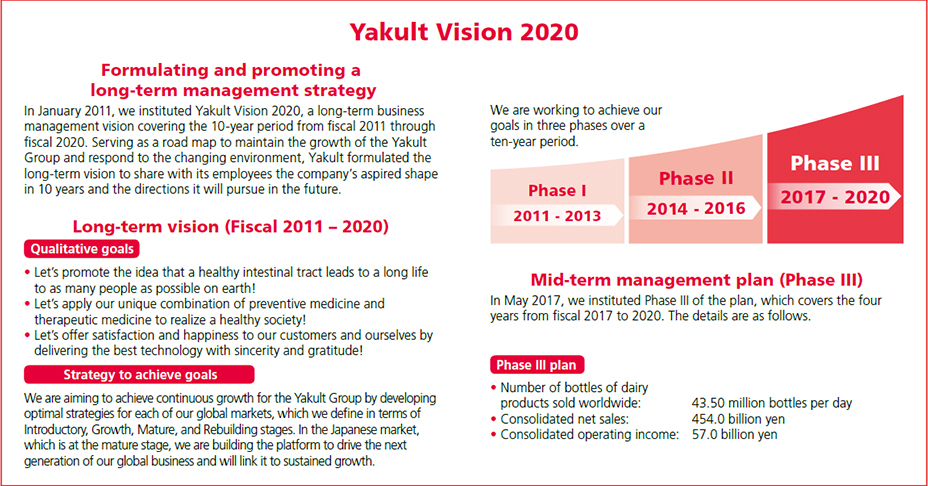 The number of countries where we do business has also grown. In January 2019 we launched sales in Denmark, and in August 2019 we began manufacturing and sales in Myanmar, meaning we have now expanded into 40 countries and regions, including Japan.
It goes without saying that it is the strength of our people that supports our growing business. In October 2018 in Kyoto — a place closely connected to our founder — we held the Yakult World Convention with approximately 2,700 participants, including employees and Yakult Ladies from each country and region who have achieved remarkable results. I was overwhelmed by the enthusiasm at the event, and when calling the participants up one-by-one to commemorate them, their high spirits and power were truly palpable.
Responding to ESG issues through our corporate activities
In addition to continuous improvement in our performance, we believe that tackling various issues to realize a sustainable society is essential in corporate management.
The Government Pension Investment Fund (GPIF), the world's largest institutional investor, makes large-scale investments in companies working to improve the overall sustainability of society — that is, those that actively incorporate environmental, social and governance (ESG) factors, the pillars of CSR, into corporate management. Yakult Honsha is included in one GPIF ESG index, and moving forward we will respond to the expectations of investors who value ESG initiatives by promoting and actively disclosing our CSR activities.
We promote our corporate activities according to the Yakult CSR Action Plan, which was formulated in line with the seven core subjects of the global CSR standard ISO 26000 to clarify our responses to ESG factors and SDGs. Here I will introduce some of our wide-ranging initiatives that address these seven core subjects.