We promote optimal personnel assignment based on abilities, aspiration, and aptitude, and regardless of age, gender, or educational background. We particularly give special priority to fostering personnel who can excel in our growing international business and other global capacities.
As a company advocating health, we strive to create a workplace where employees can stay healthy and work with peace of mind, where there is respect for individuality, and where independent and creative people come together to cultivate a corporate culture that is open and free.
Formulation of a Health Declaration (September 15, 2017)
In order to realize our corporate philosophy of "We contribute to the health and happiness of people around the world through pursuit of excellence in life science in general and our research and experience in microorganisms in particular," we believe that it is essential for our employees to maintain and improve their own health. So we announce that we have established a "Health Declaration."
Based on this "Health Declaration," we will actively engage in the maintenance and promotion of employee health and promote operations that contribute to health.
Health Declaration

Based on the recognition that employee health is essential to realizing the philosophy of "contributing to people's health," Yakult will strive to maintain and improve the mental and physical health of employees and create a safe and secure workplace environment.
White 500 certification
In February 2018 we received "White 500" certification, which is awarded to companies that meet the standards set by the Ministry of Economy, Trade and Industry to proactively promote employee health and productivity management.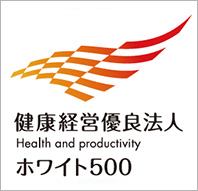 Continuous employment system
Yakult introduced a Continuous Employment System in April 2006, which is designed to reemploy personnel who have reached retirement age as full-time and contract workers.The system has been revised as needed in alignment with the intent of the Act for Stabilization of Employment of Older Persons etc.
Ratio of continuous employment at retirement age
Fiscal year
2013
2014
2015
2016
2017
Number of persons at mandatory retirement age
68
69
61
33
52
Number engaged in continuous employment at Yakult
35
40
43
21
34
Number of continuous workers who transfer to another company
16
14
11
6
9
Number of persons who choose to retire
17
15
7
6
9
Ratio of continuous employment* (%)
75.0
78.3
88.5
81.8
82.7
* Calculation of continuous employment rate includes those persons who have transferred to another company.
Empowerment of female employees
A material issue in our human resource strategy concerns the empowerment of female employees, not only in response to the problems of an aging population and a declining birthrate plus a decline in the productive population, but also since the home delivery of our products, our core business, is supported by female employees.
We formulated an action plan in line with the Act on Promotion of Women's Participation and Advancement in the Workplace that was enforced in April 2016. The fundamental philosophy of the plan can be summarized in the following three points.
Fundamental philosophy
1. Promote optimal employee placement in light of abilities, aspiration and aptitude, regardless of gender.
2. Enhance the workplace environment so that women aspiring to have a career are able to balance both work and private life with family.
3. Set precise target figures and formulate an action plan.
Number and rate of female managers (Yakult Honsha)
Fiscal year
2013
2014
2015
2016
2017
Number of female managers
33
40
44
44
45
Rate of female managers (%)
4.3
5.3
6.1
6.0
6.2