Supply chain management
Materiality

Our approach
Promoting sustainable procurement is an important theme in achieving our management philosophy. Based on the Yakult Group CSR Procurement Policy, we actively communicate with our suppliers to help them understand our approach to sustainable procurement and what we are aiming to achieve. By considering our social and environmental impact and reducing risk throughout the supply chain, we will help improve the sustainability of society.
Message from the chief officer
Since its founding, the growth of Yakult has been supported by a number of business partners. As a result, Yakult products are enjoyed in 40 countries and regions around the world, yet a stable supply of high-quality, safe and reliable products will not continue to be possible without a sustainable supply chain.
With the advance of globalization and economic development, companies are having an even greater impact on the environment and society.
We have selected supply chain management as a material theme because we believe that the Yakult Group cannot engage in sustainable development without addressing our social and environmental impact and mitigating risk throughout the supply chain to improve sustainability.
We recognize that we must take concrete action within the supply chain to fulfill our corporate social responsibility towards human rights, labor, the environment and anti-corruption. To engage in sustainable procurement of raw materials, one particular key action is to improve their traceability and data transparency.
Moving forward, we will promote responsible procurement and production, improving the overall sustainability of society throughout the supply chain in order to realize our corporate slogan of "In order for people to be healthy, everything around them must also be healthy."
Akifumi Doi
Director and Senior Managing Executive Officer
Divisional General Manager of Production Division
Related SDGs
Ensuring fair and sound transactions
Environmental destruction, forced labor and child labor in the supply chain are considered global issues relevant to corporations.
When procuring raw ingredients and other materials, in addition to conventional factors like product quality, price and delivery date, the Yakult Group engages in sustainable procurement that considers sustainability factors such as human rights, labor, the environment and anti-corruption, and promotes it among our suppliers by sharing our Yakult Group CSR Procurement Policy and Supplier CSR Guidelines.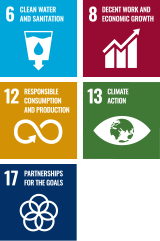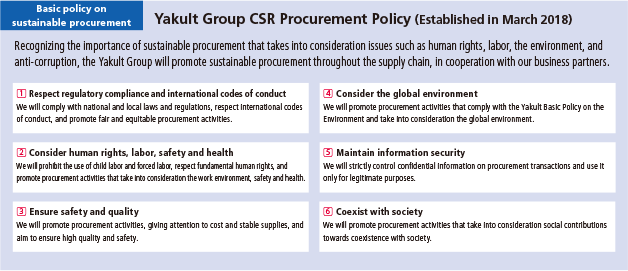 Yakult Group Supplier CSR Guidelines
Main initiatives
Supporting communities with local employment and sourcing
To contribute to the sustainable development of the countries and regions where we operate, we conduct our global business with a local focus based on local production and sales using raw materials that can be stably procured and satisfy our product quality and safety standards.
Yakult currently operates in 40 countries and regions including Japan, with 29 overseas companies. We have established sales offices and production plants with deep ties to local communities, and actively hire local employees.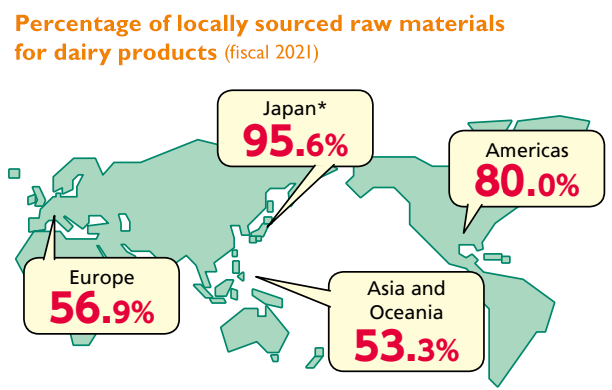 *
Raw materials imported and undergo final processing in Japan are calculated as local Japanese materials
For details, see "Supply chain management" of the Yakult CSR Report