What Is Food for Specified
Health Uses
What Is Food for Specified Health Uses
Food for Specified Health Uses (FOSHU) is a system in Japan that was one of the first of its kind in the world where the country authorizes the labeling of specific health claims on food products. These products are authorized based on scientific evidence showing their benefit to maintaining health and permitted to be labeled with their specific function. The country examines the health benefits and safety of each individual food product and authorizes their labeling.

New Yakult is a FOSHU product authorized to be labeled as follows:
Lactobacillus casei strain Shirota(L. casei YIT 9029) reaches the intestines alive, increases the beneficial bacteria and reduces the harmful bacteria, improves the intestinal environment, and regulates the condition of the intestinal tract.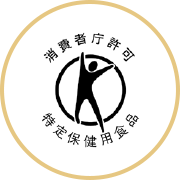 Food with Health Claims System
Authorities in Japan approve the labeling and selling of foods that meet certain safety and health benefit criteria as Food with Health Claims. Currently, depending on their purpose and function, the foods are divided into three types as shown; Food for Specified Health Uses, Food with Nutrient Function Claims, and Food with Function Claims.