Usage
① Dissolve 62.5g in final 1,000ml of distilled water and autoclave at 115℃ for 15min.
② Place approximately 15-ml aliquots in a sterile Petri dish(90mmФ)and cool down for gelling.
③ Spread 0.1ml of serially diluted cell suspensions over the surface of the plate with a spreader.
※ Caution
・ Avoid inhalation during weighing powdered medium.
・ Do not use for other purposes.
Colonies of Bifidobacteria and Lactic acid bacteria grown on "TOS propionate agar" plate.
〔Photo by Yakult Central Institute for Microbiological Research〕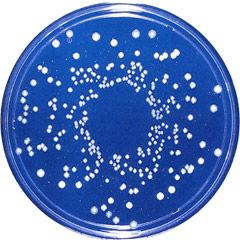 Bifidobacterium longum ATCC15708
Lactobacillus casei ATCC334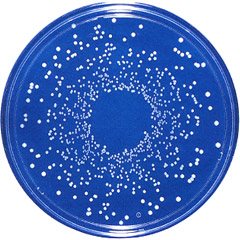 Bifidobacterium breve ATCC15698
Lactococcus lactis ATCC19435
Since the colonies of lactic acid bacteria are generally smaller in size
(pinpoint colonies) than those of Bifidobacteria, you can easily distinguish
the colonies between them.