Philosophy
We contribute to the health and happiness of people around the world through pursuit of excellence
in life science in general and our research and experience in microorganisms in particular.
Passion and Ideas for Health
-Bringing Good Health to All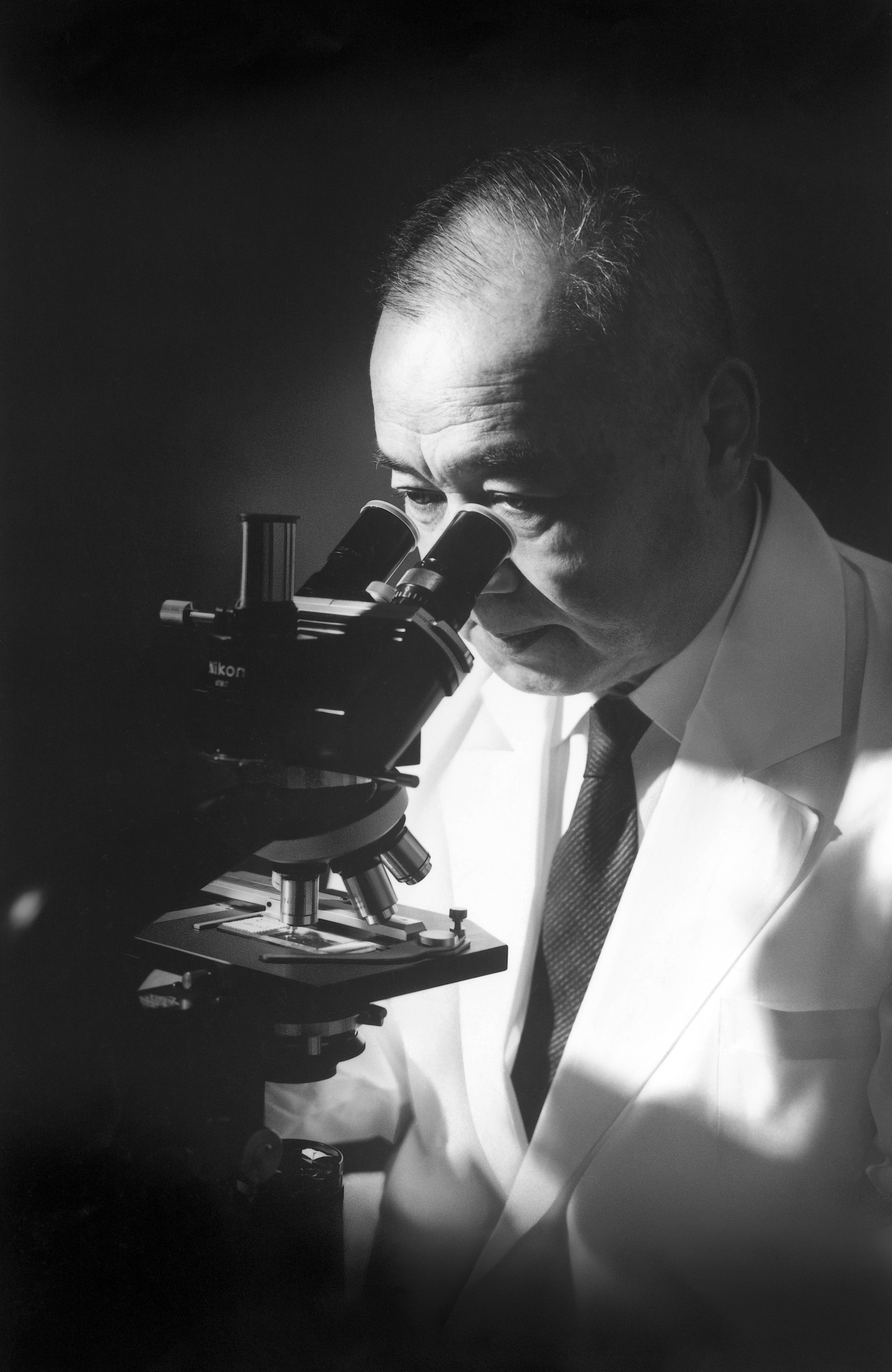 Minoru Shirota
1899-1982
Doctor of Medicine
Former Chairman of Yakult Honsha Co., Ltd. and Director of the Yakult Central Institute
Dedicating his life to the study of beneficial lactic acid bacteria and the promotion of preventive medicine, Dr. Shirota died in 1982 at the age of 82.
Minoru Shirota, M.D., Ph.D. began his medical studies in 1921 at Kyoto Imperial University (now Kyoto University). At the time, Japan had yet to achieve economic prosperity, and unsanitary conditions caused large numbers of children to die of infectious diseases.
Disturbed by that reality, Dr. Shirota, while still a medical student set his sights on the field of preventive medicine, which aims to help people avoid sickness rather than treating them after they get sick, and started down the path of microorganism research.
In his research, Dr. Shirota discovered that lactobacilli were effective in suppressing harmful bacteria within the intestines.
He later became the first to successfully strengthen and culture a strain of lactobacilli, which is now known as Lactobacillus casei strain Shirota*.
* Classified as Lacticaseibacillus paracasei strain Shirota as of April 2020.
Dr. Shirota, together with volunteers, then developed an inexpensive, good-tasting beverage, so that as many people as possible could benefit from Lactobacillus casei strain Shirota, which reaches the intestines alive and promotes intestinal health.
That is how the fermented milk drink Yakult was born in 1935.
Contributing to the health and happiness of people around the world.
Minoru Shirota's passion, ideas, and insatiable curiosity continue to be passed down today.
Corporate Slogan

The Belief Embodied
in Our Corporate Slogan
In order for people to be healthy, everything around them must also be healthy.
Yakult believes that everything on the Earth must be healthy—from the water, soil,
air, plants and animals to humans—in order for people to be able to live healthily and
to build a sound society.

Since long ago, various symbiotic relationships have formed the natural and social environment on earth.
For example, the symbiosis between the earth and microorganisms that play a major role in cleansing the global environment. The symbiosis between us humans and useful microorganisms that give us good health. And a symbiosis between people that fosters a warm society full of mutual understanding.
Yakult hopes to use its many years of microbial research not only to promote people's health but also to create a healthy global environment. And through the bonds nurtured between Yakult and its customers, Yakult hopes to help create a warm society where people can come together.
Earth, humans and microorganisms. Yakult's aim is to help create healthy and enjoyable lives for people around the world by leveraging the power of the symbiosis that binds us all together.
Shirota-ism-The Origins of Yakult
At Yakult, the ideas of our founder Minoru Shirota and "Shirota-ism" are what lie at the heart of Yakult and which today form the very foundation for all our operations.