Minoru Shirota, M.D.
1899-1982
Former Chairman of Yakult Honsha Co., Ltd. and Director of the Yakult Central Institute for Microbiological Research

Dedicating his life to the study of beneficial lactic acid bacteria and the promotion of preventive medicine, Dr. Shirota died in 1982 at the age of 82.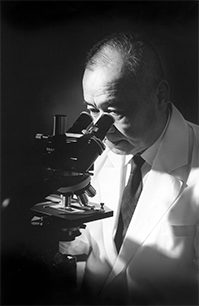 Minoru Shirota, a Doctor of Medicine, began his medical studies in 1921 at Kyoto Imperial University (now Kyoto University). At the time, Japan had yet to achieve economic prosperity, and unsanitary conditions caused large numbers of children to die of infectious diseases.
Disturbed by that reality, Dr. Shirota, while still a medical student set his sights on the field of preventive medicine, which aims to help people avoid sickness, and started down the path of microorganism research.
In his research, Dr. Shirota discovered that lactobacilli were effective in suppressing harmful bacteria within the intestines. He later became the first to successfully strengthen and culture a strain of lactobacilli, which is now known as Lactobacillus casei strain Shirota.
Dr. Shirota, together with volunteers, then developed an inexpensive, goodtasting beverage, so that as many people as possible could benefit from Lactobacillus casei strain Shirota, which reaches the intestines alive and promotes intestinal health. That is how the Yakult lactobacillusbased beverage was born in 1935 and was the beginning of the Yakult that is loved throughout the world.