Yakult Honsha Co., Ltd. traces its roots to 1930, when the Company's founder, Dr. Minoru Shirota (1899-1982) successfully strengthened and cultivated Lactobacillus casei strain Shirota while working in a microbiology laboratory at Kyoto Imperial University's School of Medicine (currently Kyoto University). Sales of the fermented milk drink Yakult commenced five years later in Fukuoka, Japan, bringing people the health benefits of Lactobacillus casei strain Shirota, which was shown to have beneficial effects on the intestinal tract.
After World War II, Japan lay in ruins, and contagious diseases such as dysentery and typhoid fever were prevalent. In response to growing demand for Yakult as a preventive measure, the production and sales of Yakult began to spread nationwide. Yakult Honsha Co., Ltd. was established in Tokyo in 1955 to manage this growing network.
Since then, Yakult Honsha has continued to strengthen basic and applied research into lactobacilli, diversify its range of dairy products, and expand its business domain into cosmetics and pharmaceuticals. We have also contributed to the health of people around the world by expanding aggressively overseas, starting with Taiwan in 1964. Yakult is currently sold in 40 countries and regions around the world, including Japan at August 2019.
The Source of Yakult's Strength
The first source of our strength as a company is the fact that we possess Lactobacillus casei strain Shirota and Bifidobacterium breve strain Yakult, whose health benefits and safety have been confirmed through clinical trials.
The second source of our strength is the fact that all members of the Yakult group are imbued with Shirota-ism-the ideals of Dr. Shirota, the founder of our company who succeeded in strengthening and cultivating Lactobacillus casei strain Shirota.
Shirota-ism refers to the ideals of preventive medicine, the concept that a healthy intestinal tract leads to a long life, and a commitment to providing products at affordable prices, which Dr. Minoru Shirota espoused since he established Yakult. Shirota-ism lies at the heart of Yakult and forms the very foundation of our operations.
The third source of our strength is the Yakult Ladies-our unique home-visit sales organization, which markets these strengths around the world.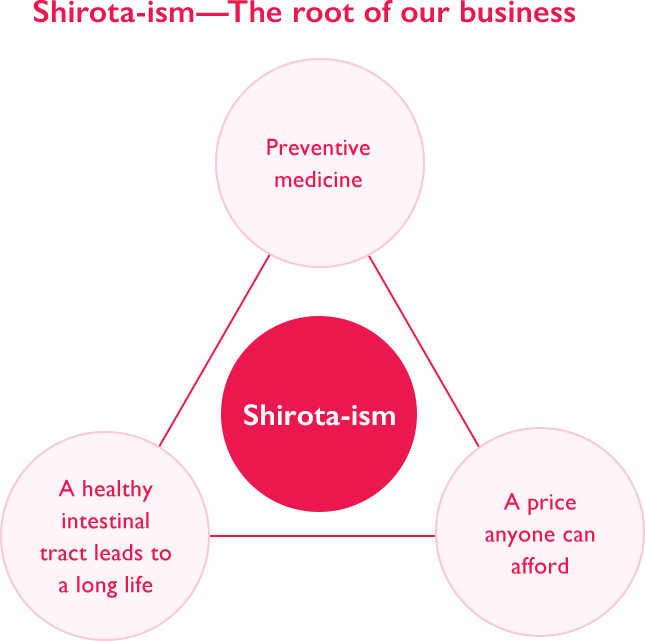 Shirota-ism
Ideals of preventive medicine, concept that a healthy intestinal tract leads to a long life, commitment to providing products at affordable prices